V263: Savvy Style Advice - Valerie, Real Bride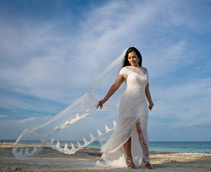 VALERIE Being a bride is a wonderful, crazy, miraculous experience. You will compromise on so many things, as you should. It is good practice for starting a life together. However, be sure to keep at least one thing sacred. It is important not to lose your sense of self in the process. It will make you smile when you look back and see the thing, big or small, discreet or grand, that came from you.
What It's Like to Be a Ceci New York Bride: Relationships are everything, particularly when planning a wedding. It was so important to me that I find a team of artists who understood and celebrated my vision. Also crucial was that I was working with absolute professionals. From the moment I stepped foot inside Ceci New York I knew I had found just that. They created the most magnificent suite – beyond what I could have ever imagined. Every step of the process was seamless, and they made every request I had seem simple and easy. In the end, our invitations were uniquely us and left our guests wowed and excited for our big day.