V262: Ceci Inspirations - Deco Desire
DECO DESIRE
Like many of you, I'm inspired by countless parts of the world around me. I believe inspiration is everywhere – you simply have to look around (try taking your eyes off your cell phone) and pay attention to what moves you. And when you pair some of these alluring things together, the possibilities of what you can create are endless. Travel and food, beautiful gardens, architecture, everyday glam street style, and scenic vistas from the top of a stately building are some of my favorites.
Highlighting a fantastic combination of her own is this week's Ceci Bride Kari with two of the most enticing periods in history: Art Deco and Art Nouveau. Why choose one when you can have both? I always say more is more, right? The letterpress invitations we designed for Kari's wedding at The Bowery Hotel in New York City perfectly balance the natural, curved floral lines so often found in Art Nouveau and the dramatic geometric shapes Deco is so well known for. It's a beautiful marriage of the two styles. To help you achieve this look, head on over to this week's Get the Look and also check out what event planner Laura Leonard of Lyndsey Hamilton Events has to say – she's sharing her top tips to bring these styles and elements from the early 1900s to life.
If you happen to have more modern sensibilities and are obsessed with laser cutting like we are, then we have one last fabulous pairing for you. Don't miss the feature on Ceci Bride Lisa in Grace Ormonde Wedding Style. It's filled with lots of drool-worthy details, including our personalized laser-cut program and escort card combination. I love how useful and elegant this is.
Here's to making your own unique statement with all that the world has to offer!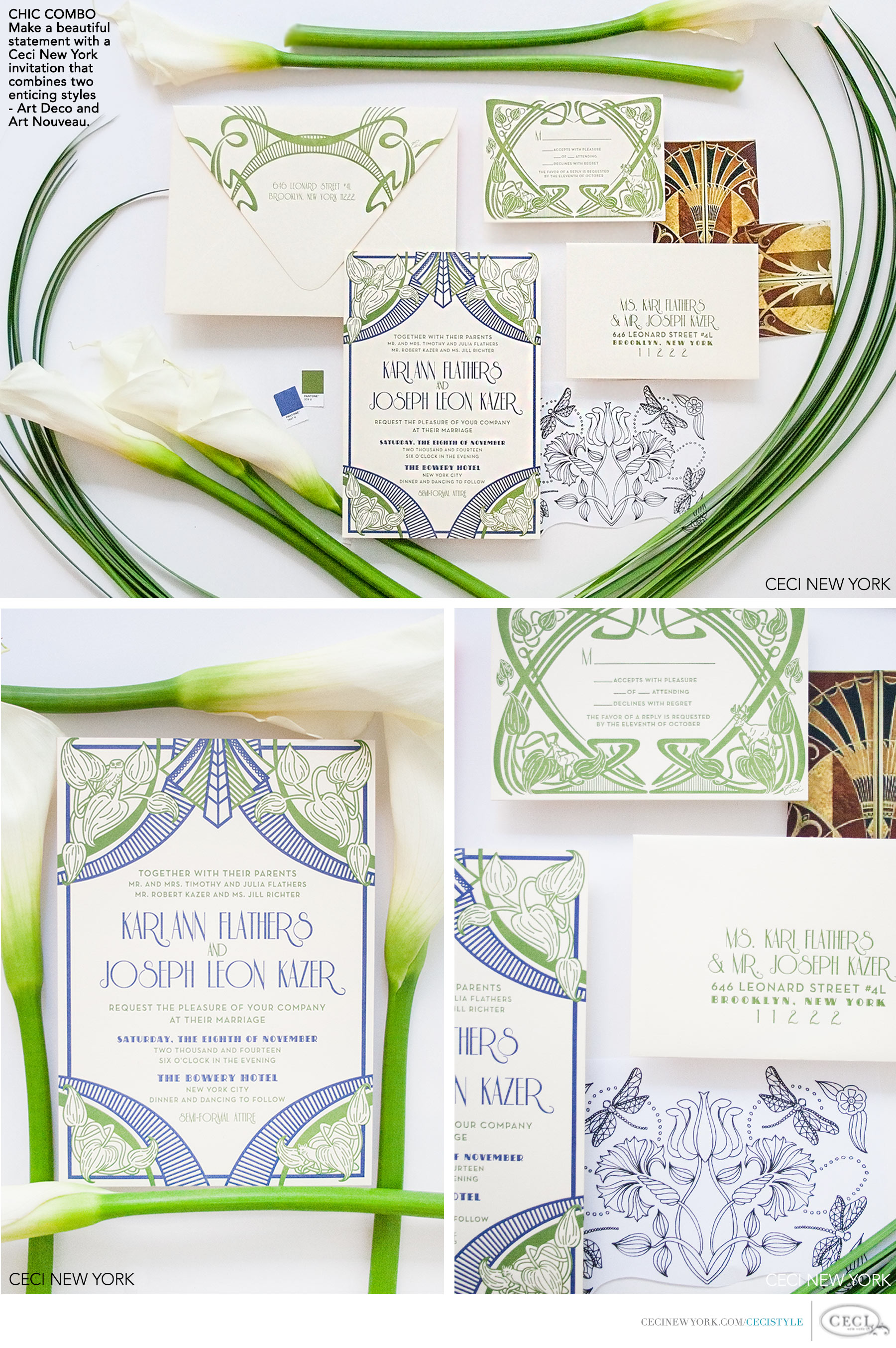 Photography by Ceci New York.
THE CREATIVE TEAM: Photography: Ceci New York