V261: Savvy Style Advice - Katie, Real Bride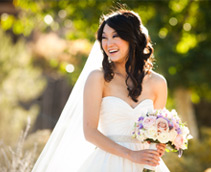 KATIE After all of the hard work that goes into planning a wedding, the actual weekend goes by so quickly. Definitely make sure you find a moment to sneak away as a couple during the event to take in the experience together. As our guests were being seated for dinner, we were able to spend a few minutes alone to take in the gorgeous courtyard, sneak a peek at our happy guests from behind the curtain and get in a practice twirl or two before making our grand entrance and first dance as newlyweds. Also, organizing some additional festivities such as a rehearsal dinner for all our guests, a send-off brunch and pre-weekend cocktails helped us to make sure we spent quality time with our family and friends.
What It's Like to Be a Ceci New York Bride: Working with Ceci Johnson and her exceptional team was such a pleasure as they have a passion for design and service that made our vision come to life! The customized design experience is definitely worth it as the final product was truly unique and set the tone for an elegant and personal celebration. Ceci incorporated personal elements like the Pont des Arts lock from our engagement in Paris story and Mother's watercolor map of Santa Fe. We received so many calls from our excited guests who loved the gorgeous invitations and found the personal touches to set the stage for the warm and welcoming festivities.