V259: Savvy Style Advice - Fionna, Real Bride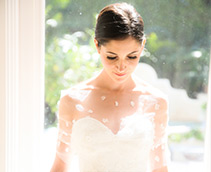 FIONNA The Ceci team helped us achieve the perfect balance of fun, tradition and style. From the save-the-dates to the formal invitations, our guests were given a special glimpse into our personal style and the exciting wedding weekend ahead.
What It's Like to Be a Ceci New York Bride: Working with Ceci means working with design professionals. The Ceci team understood the balance between the beauty of simplicity and the chance to be utterly spectacular. I believe our wedding invitations embodied just that.