V262: Savvy Style Advice - Kari, Real Bride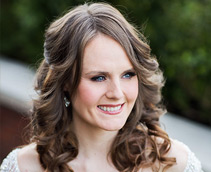 KARI There are so many decisions to make in the planning process. My biggest piece of advice would be to make a decision, and move on. It can be so easy to overanalyze each and every decision, and more than likely your guests will not even notice those tiny details.
What It's Like to Be a Ceci New York Bride: Designing our invitation suite was by far one of the most enjoyable parts of the planning process. Joe and I were able to meet with Ceci's design team and share our vision. From there, Ceci pulled from our inspiration and created beautiful mock-ups for us to review. While we had the opportunity for several rounds of designs, Ceci pretty much nailed it from the beginning. The whole process was seamless, and I can't tell you how many compliments we received on our invitations. We couldn't have been happier with how everything turned out!