V63: Ceci Inspirations - Italian Renaissance
ITALIAN RENAISSANCE
If you're considering a destination wedding, it's hard to beat Italy. Bursting with old-world beauty and culture, it's one of the most romantic corners of the world. As an artist, I have to add that Italy - home to Renaissance masters like Leonardo da Vinci and Michelangelo - is also one of the most inspirational.
Happily, these two ideas - of Italy as wedding destination and artistic inspiration - were joined when we created the invitations for Ashleigh and Ryan, who were getting married in Lago di Como, Italy. First came a special save-the-date made to resemble a vintage artist's journal, complete with steamer trunk stickers. And after the couple had seen the drawing I had made for my own wedding invitations, they asked me to do something similar for them. Moved by the sweeping frescoes of the Italian Renaissance, I took to my easel to paint my interpretation of the couple's love story, including details like the Eiffel Tower, which represented the city where they got engaged. When the big day had passed, Ashleigh and Ryan were able to say they were the owners of a custom piece of art!
To get you in a jet-set mood, this week I've asked event designer David Beahm for tips on planning a destination wedding. In a nod to this issue's Italian vibe, you'll also find the Ceci New York team's list of top Italian restaurants in New York. Because even if you can't make it to Italy, there's nothing stopping you from recreating the fantasy here at home.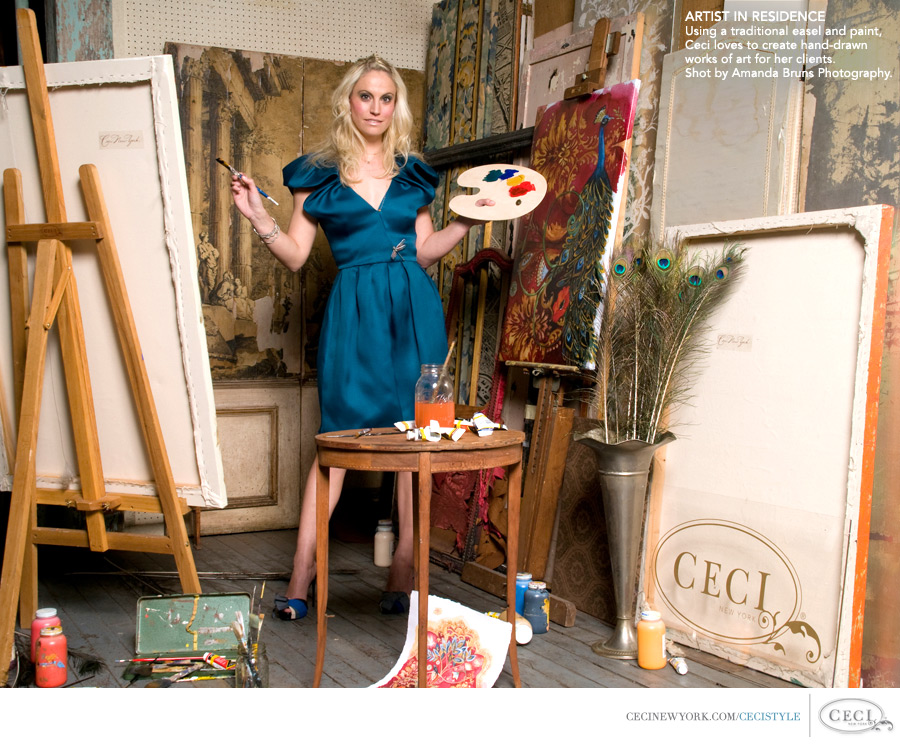 Photography by Amanda Bruns Photography. View the Creative Team in Behind the Scenes.