V61: Ceci Inspirations - All Booked Up
ALL BOOKED UP
Now that fall is officially here, it's time to get smart about your work wardrobe. I'm talking about investing in a great new holds-everything handbag, a pair of sturdy-but-chic heels, and all the other sharp clothes and accessories that are sure to set you apart from the crowd. Naturally, this also includes stocking up on fall-themed cards and invitations, like the ones I've chosen below. Like I always say, how you present yourself on paper is just as important as what you wear!
To get you inspired, this week I'm featuring the invitations my team and I designed for wedding planning resource The Knot's 15th anniversary celebration (for which I'm proud to say we won a Big Apple Award!). The event was a dazzling affair featuring the wedding industry's best, including host and The Knot founder Carley Roney, planner Bryan Rafanelli, event wiz David Stark, dress designer Monique Lhuillier, floral genius Preston Bailey, cake talent Sylvia Weinstock and photographer Christian Oth, who took the images of the party below. Because it was held at the New York Public Library, we made the invite cover resemble a row of classic romance novels that included Pride and Prejudice and Gone with the Wind. The volume in the center represented The Knot's own love stories it has told over the years. Invitees opened the card to find the party information presented like an old-fashioned bookplate, plus a bookmark listing all the vendors who helped make the gala a success (which guests could use as a reference when planning their next event).
Although few of us can afford to spend all our time at the library, we certainly can appreciate acting and looking smart. So this week check out all the ways to stay on top of your game, from the accessory-filled picks in Get the Look to wise advice on responding to invitations from Rebecca Taylor of Ron Ben-Israel Cakes. With such a strong style arsenal, you'll be ready to start booking up your calendar with confidence!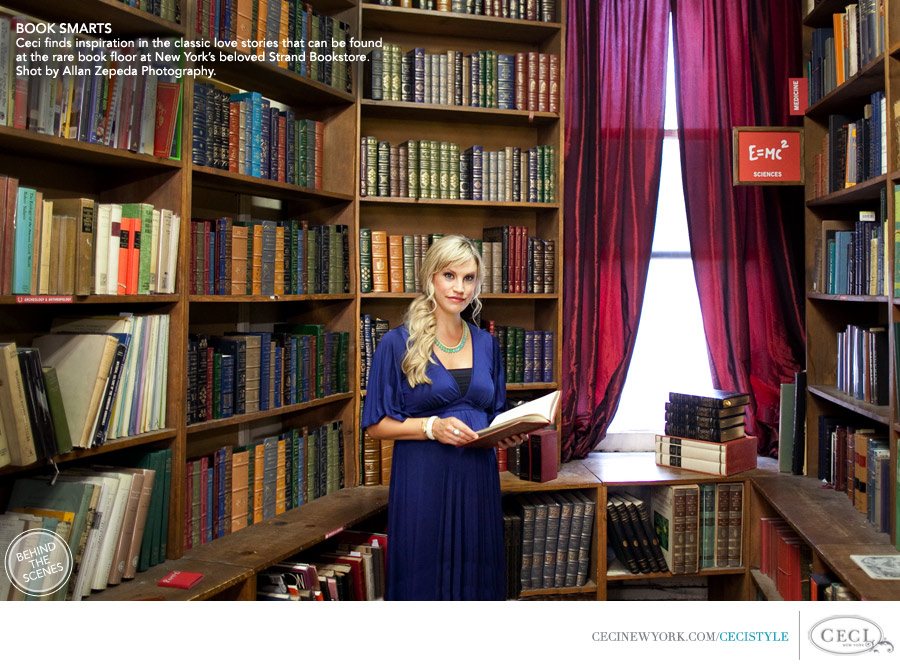 Photography by Allan Zepeda Photography. View the Creative Team in Behind the Scenes.