V59: Ceci Inspirations - Red-Carpet Ready
RED-CARPET READY
I'm so excited the Emmys are on this weekend - and not just because I love seeing all the chic celebrities as they make their way down the red carpet. It also gives me a chance to shine the spotlight on the dazzling invitations my team and I are honored to have designed for last year's ceremony, which you can see below.
In the spirit of the awards, I thought I'd come up with my own categories and let you in on some of the celebs and TV shows we've had the privilege to work with. Jump below to see the fun awards I've given to Gossip Girl (my favorite New York- and fashion-centric TV series!), as well as actresses Katherine Heigl of Grey's Anatomy and Reshma Shetty of Royal Pains. I think you'll agree they all deserve them!
Speaking of the Emmys, I'm proud to say we have our very own Emmy Award winner here at Ceci New York: project manager Naomi Marcus. She has three Emmys to her name (from her days as a producer at HBO), which makes her a true rock star employee. I've invited her to be our guest editor this week, so don't miss Naomi's Fabulous Finds, below. Since I believe that we are all the stars of our own shows, I've also asked makeup artist Patricia Longo to come up with three red-carpet looks that you, too, can try at home. Then, read on for details that make a great Emmys-inspired party, from starry napkins to chic serving platters. Finally, be sure to check out my favorite looks from the fashion brands that always create the best, most jaw-dropping gowns for high-wattage events like the Emmys. Which gown would you wear?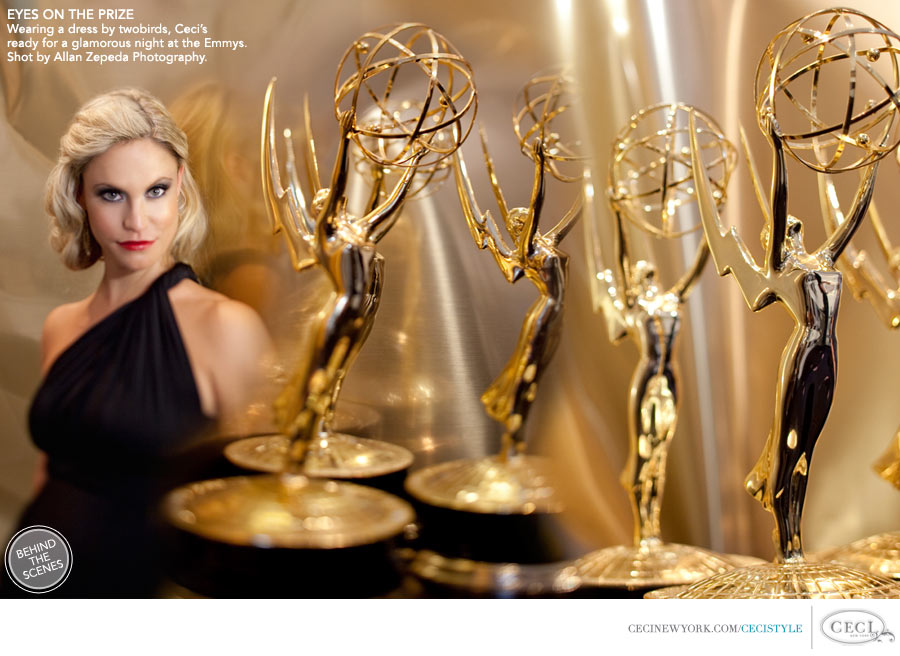 Photography by Allan Zepeda Photography. View the Creative Team in Behind the Scenes.