V54: Ceci Inspirations - Paper Art
PAPER ART
One of my latest obsessions is thinking about how to bring the Ceci touch to home entertaining - I dream of one day being able to design my own prints on fabrics and dishes. For the moment, I've dipped my toe in that world by creating a range of tabletop paper goods under the name Ceci Vivre. I enjoy making your entertaining easier and more stylish, and these products - from clever place cards to decorative placemats - are here to help. So as you get ready to plan your next party, be sure to stop by my online shop!
In the meantime, to help inspire you, I called upon my savviest, most creative friends and challenged them to design separate table settings using Vivre. Each picked his or her favorites from the collection and built a look around them. I love the range, from Ivy Robinson's bold use of color using my bird place cards and palm leaf placemats, to Jill La Fleur's signature soft look pairing my opal lace fan tented cards with opal damask placemats. I was wowed by the results and hope you will be, too! Then, to prove that you don't need to be a professional to use these products in a stylish way, I've also asked some regular folks to show us how they've incorporated Vivre into their parties - check out how my mom got creative for my recent baby shower! Which reminds me: be sure to visit a fun section of CeciStyle called Art of the Invitation. It's where you can submit pictures and share with us how you've used Ceci products in your own life. Get all the details here.
Of course the paper games don't end there. Just recently my team and I had a blast creating a whimsical installation piece in our store windows showing a waterfall of letters spilling out of a mailbox (see photo, below). Made from a rainbow of recycled invitations taken from our archives, the piece celebrates paper's pliable beauty. And while it isn't for sale, you can stock up on a host of imaginative paper goods, like items that have been fashioned into dresses and flowers, in this week's Get the Look. Then be sure to scroll down for the latest edition of Fabulous Finds, in which event designer and paper master David Stark shares his top-ten whimsical design finds. It all goes to show you how much fun it can be to get creative. Go on, let's see what you can do!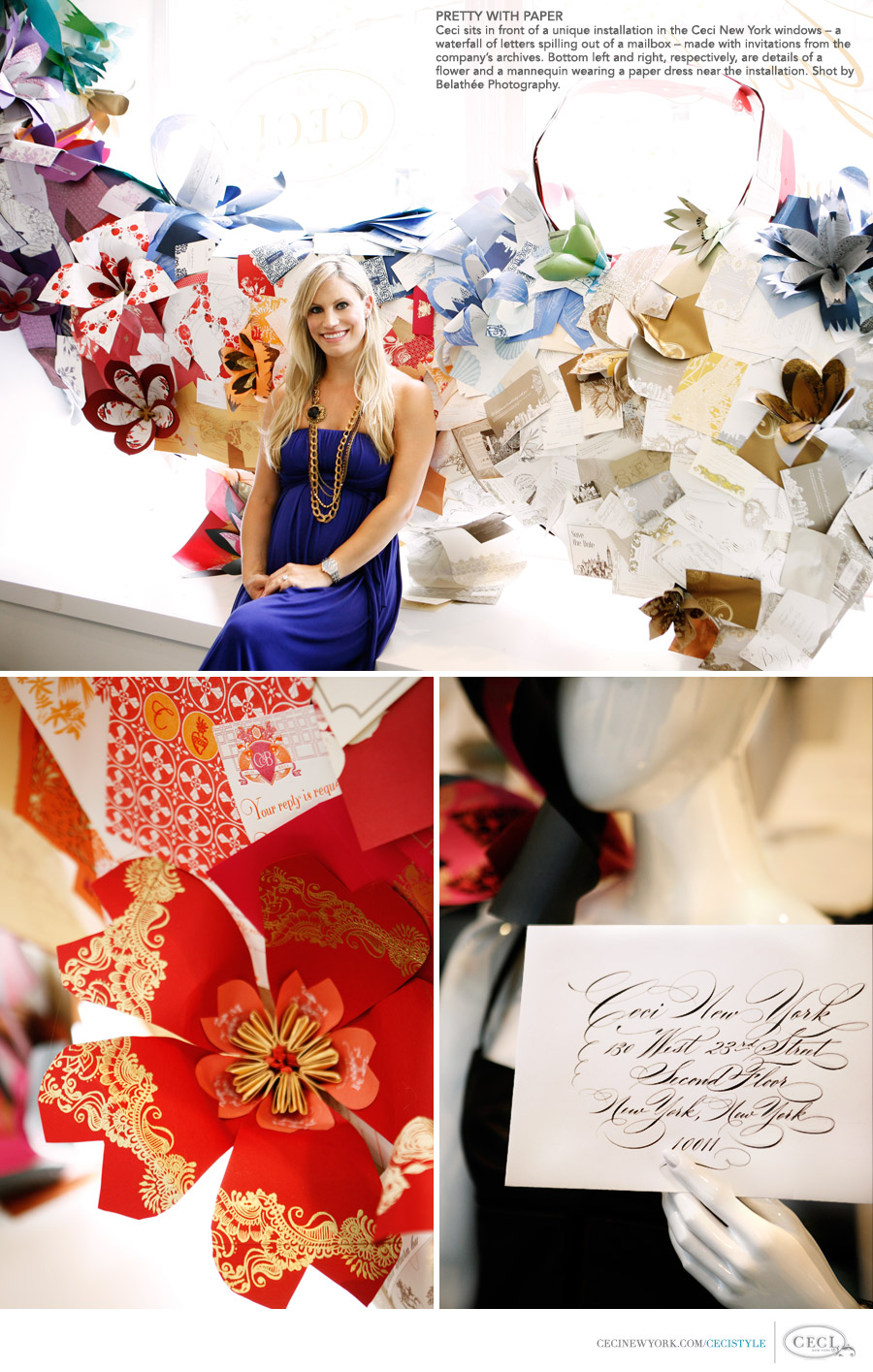 Photography by Belathée Photography. View the Creative Team in Behind the Scenes.