V50: Ceci Inspirations - Decidedly Decorative
DECIDEDLY DECORATIVE
I love it when one of my muses continues to inspire me long after our initial collaboration. It's as if the spark of creativity has turned into a burning ember.
Take, as an example, the invitations I worked on for this week's muse, Eve Behar (daughter of TV personality Joy Behar). Eve and I decided to go in an Art Nouveau-themed direction, combining vintage feather flourishes with an elegant purple font. (Eve was kind enough to share with us a few personal snapshots from her event, below.) I loved the invitations so much, I decided to make them part of my ready-to-order collection. Called – naturally – Eve, the invites can now be snapped up for your own wedding or event. What's more, the design is available in practically any hue – just click on the "Choose Your Inks" link to the right of the invitation image. Think of it as getting an off-the-rack version of a couture gown in your favorite color!
To see the work of another woman who keeps inspiring me, this week I've pulled together a host of favorite bridal and ready-to-wear looks from designer Jenny Packham. I just love her style – and you will, too, when you see the images I've picked! Also, there's a lot more Art Nouveau-ish style in this week's Get the Look, so be sure to check it out. Now it's time to let your creativity soar!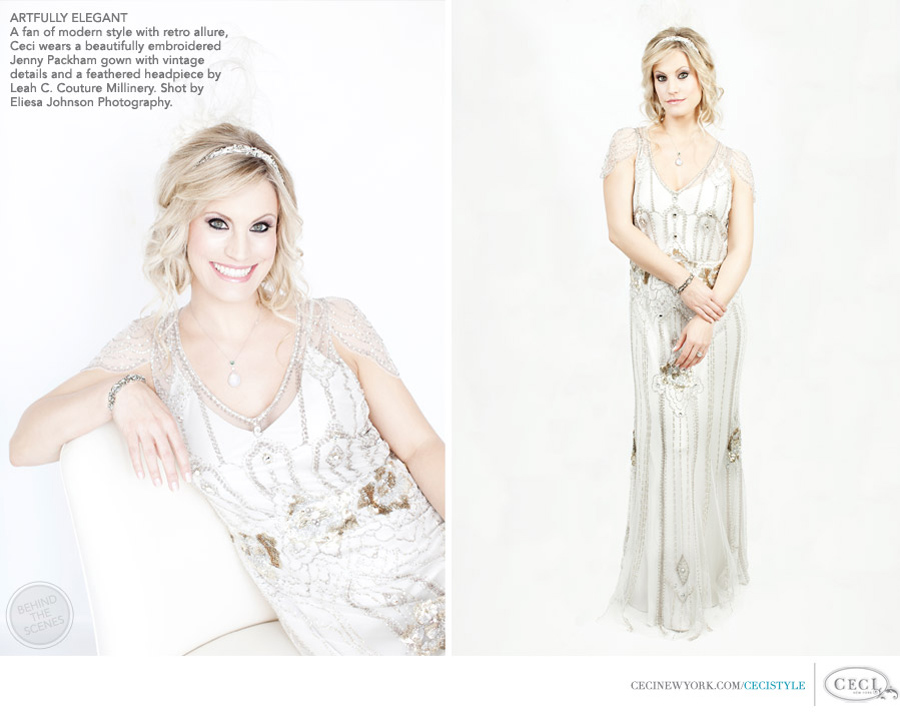 Photography by Eliesa Johnson Photography. View the Creative Team in Behind the Scenes.
View the video of the CeciStyle cover shoot now!
Check out the behind-the-scenes video of our cover shoot for this issue (and even a sneak peak at some upcoming issues!). Special thanks to Allan Zepeda for creating this exclusively for CeciStyle magazine. And big love to the entire creative team who made this shoot possible.