V46: Ceci Inspirations - The White Issue
THE WHITE ISSUE
There's something about going all white – whether it's for a party, an outfit or a room's decor – that's especially dreamy. Everything seems that much more fresh and modern.
Still, there are some tricks to making white really dazzle. When a client asks me for all-white invitations, I often recommend adding extra oomph through silver foil printing or by incorporating texture via materials like suede. You can see both techniques in this week's featured invite, which I designed for Sean "Diddy" Combs' legendary White Party, co-hosted with Ashton Kutcher. Yet another favorite approach is letterpress printing on heavy card stock so that the white-on-white text and designs aren't just seen but felt. I'm a big fan of using any method at my disposal to make your invitations stand out in style!
This week I've got lots of examples that demonstrate how to do white right in different aspects of your life. First, check out the photo below, in which I mix white sequins, feathers, and netting for an all-white ensemble that comes alive in unexpected ways. Get the Look also has a mix of great fashion and home accessories to get you in a white mood with sparkle and shine. Finally, jump down to my featured experts this week, who brilliantly translate the all-white look to every facet of entertaining – from event pro's Pablo Oliveira's decorating tips to caterer Marcey Brownstein's imaginative food ideas. For your fashion fix, I called upon friend and Director of Fashion Accessories at Bloomingdale's, Brooke Jaffe, to give us five chic all-white looks to take you from day to night. Read on and you'll be planning your very own dream party in no time!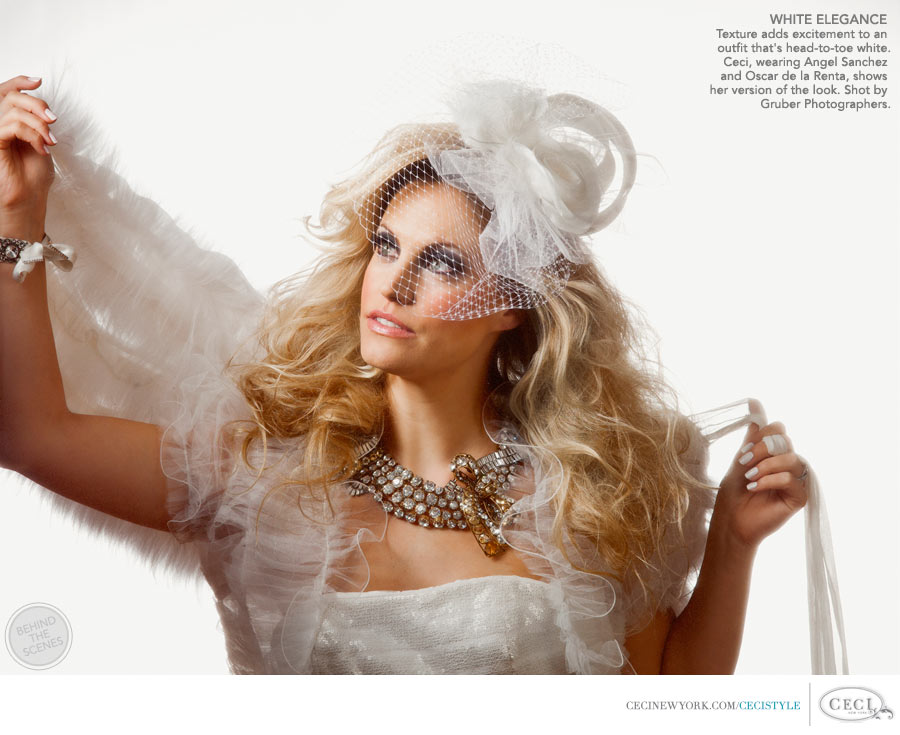 Photography by Gruber Photographers. View the Creative Team in Behind the Scenes.