V45: Ceci Inspirations - Out of Africa
OUT OF AFRICA
Every once in a while, I get to work on an event like no other. That's what happened when I met Azie and Wale, a young couple that was planning a celebration across two continents, first in their home country of Nigeria, then in New York.
The couple wanted something that was classic and traditional, but they agreed to let me inject details that made the invitations one-of-a-kind. Using a soft green palette, my team and I designed their save-the-dates highlighting events on both continents, using images of vintage airplanes to underscore the jet-set aspect. Then, for the main card announcing the festivities in the Nigerian capital of Lagos, we added an engraved, gold-plated emblem with the couple's initials. We embellished the entire invitation with ornate patterns that were hand-drawn exclusively for the couple. (To see what we designed for the second party, click here.) The set was truly fit for royalty.
I loved how guests at the reception in Lagos wrapped themselves in traditional Nigerian fabrics, so I had some fun by putting my own spin on African style, below. To join in on the mixing and matching, check out this week's Get the Look, filled with irresistible, African-influenced pieces. Also, don't miss Republic of Foreigner designers Carmen and Selina Sutherland's travel guide to Lagos – a unique destination with so much to offer. It's a good thing to keep in mind: keep spinning the globe and you'll always find inspiration!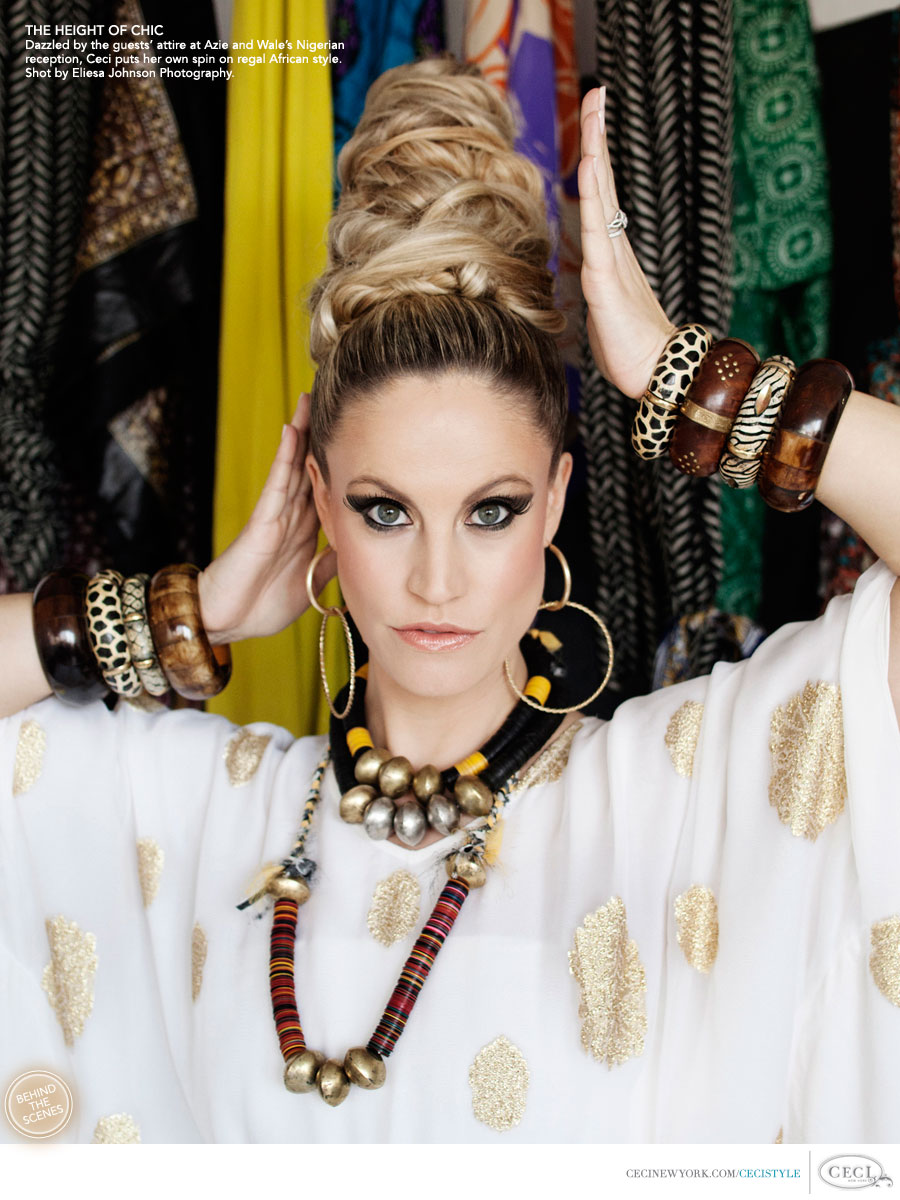 Photography by Eliesa Johnson Photography. View the Creative Team in Behind the Scenes.
View the video of the CeciStyle cover shoot now!
Check out the behind-the-scenes video of our cover shoot for this issue (and even a sneak peak at some upcoming issues!). Special thanks to Allan Zepeda for creating this exclusively for CeciStyle magazine. And big love to the entire creative team who made this shoot possible.