V43: Ceci Inspirations - Sea Chic
SEA CHIC
Memorial Day weekend is upon us, which means by now most of you have at least one summer plan that includes spending time on the beach. And if you don't, here's your chance to get inspired.
My client Julie K. was getting married at the Ritz-Carlton in Naples, Florida, to her fiancé, Stephen. She wanted something feminine and beachy but still formal. Using a soft sea green as the main color, my team and I came up with a lighthearted design that incorporated flowers surrounded by swirling tendrils of sea grass. We added a few shells and seahorses here and there, but made sure these hints of the beach remained subtle. I liked the final design so much, I included it in the ready-to-order Ceci New York for The Breakers Collection so it's now available to any bride looking for singular sea style.
Originally from San Diego, I head to the beach any chance I get (that's me enjoying the surf in Florida, below). So, yes, I really can't wait for summer! For those of you getting ready to shop for warm-weather accessories for you and your home, this week's Get the Look has a host of stylish, green-themed choices. Also, don't miss tips from Donna Newman Photography and David Tutera, celebrity event planner and star of WEtv's hit show "My Fair Wedding." I can almost smell the salty air. Can you?
Happy Memorial Day weekend everyone!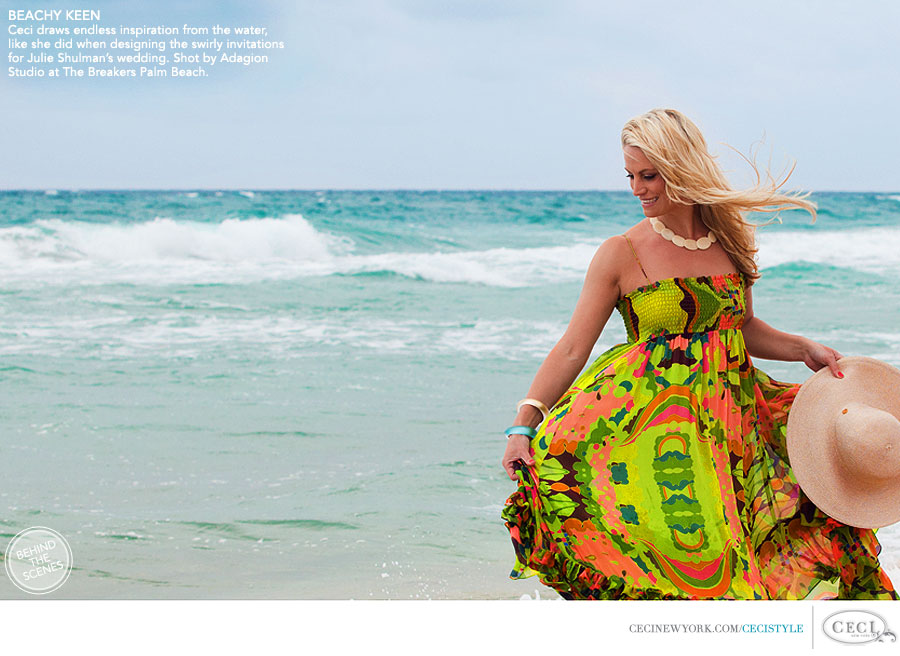 Photography by Adagion Studio. View the Creative Team in Behind the Scenes.
View the Behind the Scenes now!