V39: Ceci Inspirations - Royal Fever
ROYAL FEVER
I've got royal fever! Do you? In honor of what's being called The Wedding of the Century, this week it's all about how you can bring a touch of royal style into your life. If you've ever dreamed of being a princess for a day – or would just prefer to live life more regally – do I have some ideas for you!
Given that I've done countless interviews and dispensed endless advice on Prince William and Kate Middleton's nuptials, I thought I'd gather all my thoughts under CeciStyle's chic little roof. For starters, I've designed a royal invitation to show what kind of style I'd imagine for the happy couple. Since I love creating crests for my clients, I wouldn't dare leave one out for Will and Kate (find my take, below). As you can see, I chose a navy for the elegant script but highlighted the couple's names and the monogram within the crest using gold foil; I matched the velvet gatefold that frames the suite of cards to the deep blue of the script. To add a romantic feel, I brought in lush, English-garden style flowers to the lining of the save-the-date envelope. Totally fit for a princess, don't you think?
Since the whole lead-up to the royal wedding has gotten slightly out of hand (Will and Kate Pez dispensers anyone?), I thought I'd join the mayhem with tongue firmly in cheek. Below you'll find me – dressed like a princess, naturally – getting the latest gossip as I sit in an old-fashioned London phone booth. Equally princessy, but in a more achievable way, is this week's Get the Look, filled with ideas inspired by Kate Middleton's spot-on British style. Plus, I asked my friends from across the pond Mark Niemierko, Britain's leading wedding planner, and Peta Hunt, Fashion Director of You & Your Wedding magazine in the U.K., to share their insider tips on achieving enviable royal style – the right way. It's time to let your inner princess shine!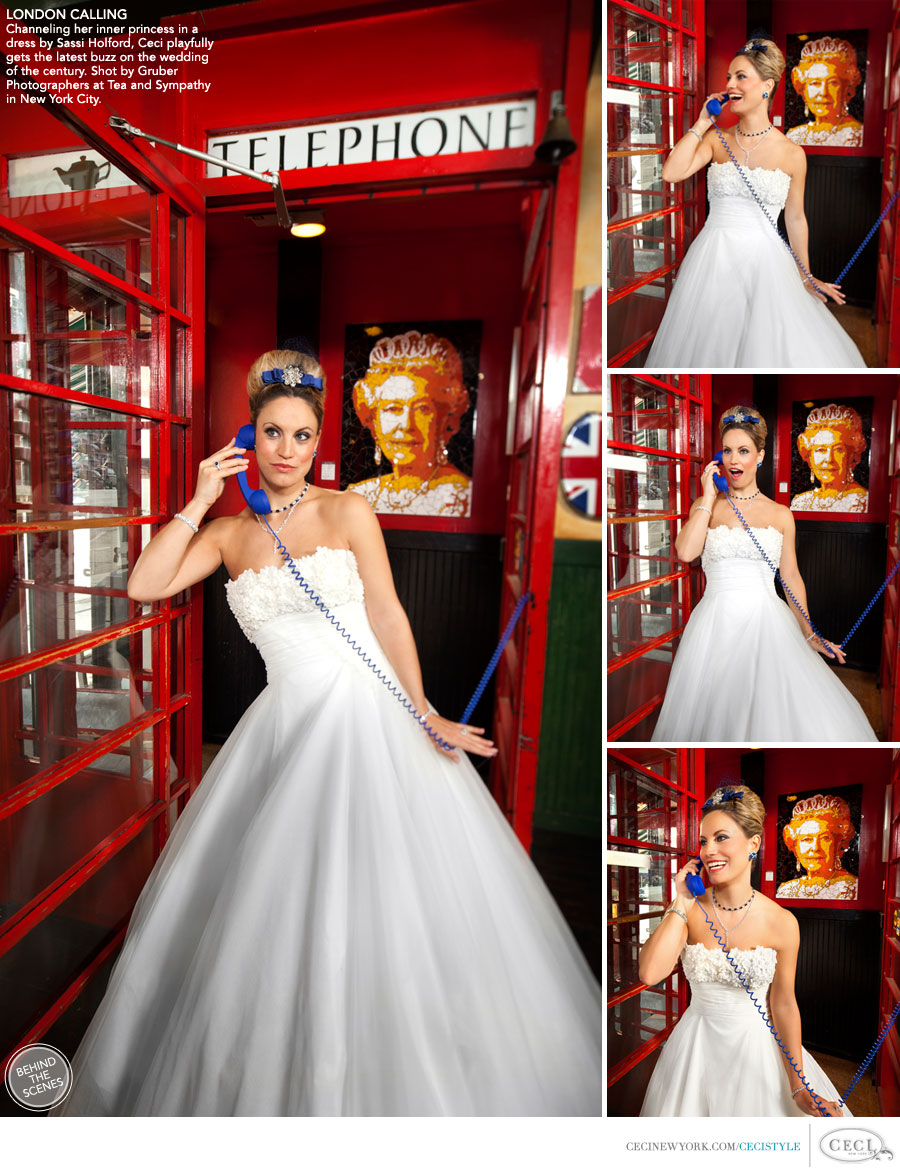 Photography by Gruber Photographers. View the Creative Team in Behind the Scenes.
View the Behind the Scenes now!