V37: Ceci Inspirations - Exotic Excellence
EXOTIC EXCELLENCE
There's nothing I love more than setting the mood for an event through invitations. After talking to a client to get a sense of what they're looking for, I like to give my artistic side free reign to imagine a spectacular night. When I've come up with countless versions and allowed myself to take as many creative risks as possible, I'll finally settle on a visual style that I'm confident can be carried through to the rest of the party.
I was able to do just that when I met Ashley Thompson, a beautiful young client who was planning the bash of a lifetime in Mexico. Knowing it was going to be set in a warm and colorful location, I pulled out my watercolors and let my creativity soar. The end result was an invitation that centered on a hand-painted swirl of hot pink and orange paisleys, accented in gold and black. To add an overall exotic vibe, I included Moroccan-style embellishments throughout, from the main envelope to the reply card.
It's always incredibly exciting to see how a party finally comes together. As you can tell from Ashley and Brian's photos, the energy was truly spectacular (in an experimental mood, I tried to capture some of that same wild, flowery spirit in the image below). This week's Get the Look is a starter kit for how to get a similarly bright and exotic vibe for your next party. To make sure you're always entertaining with flair, I've included my personal tips for creating unforgettable invitations. Plus, in the spirit of Ashley's Mexico wedding, there's also a travel guide to Los Cabos and recipes for authentic Latin desserts from Mexican-born pastry chef Fany Gerson. Here's my biggest lesson: if you want to be remembered, never be afraid to take risks!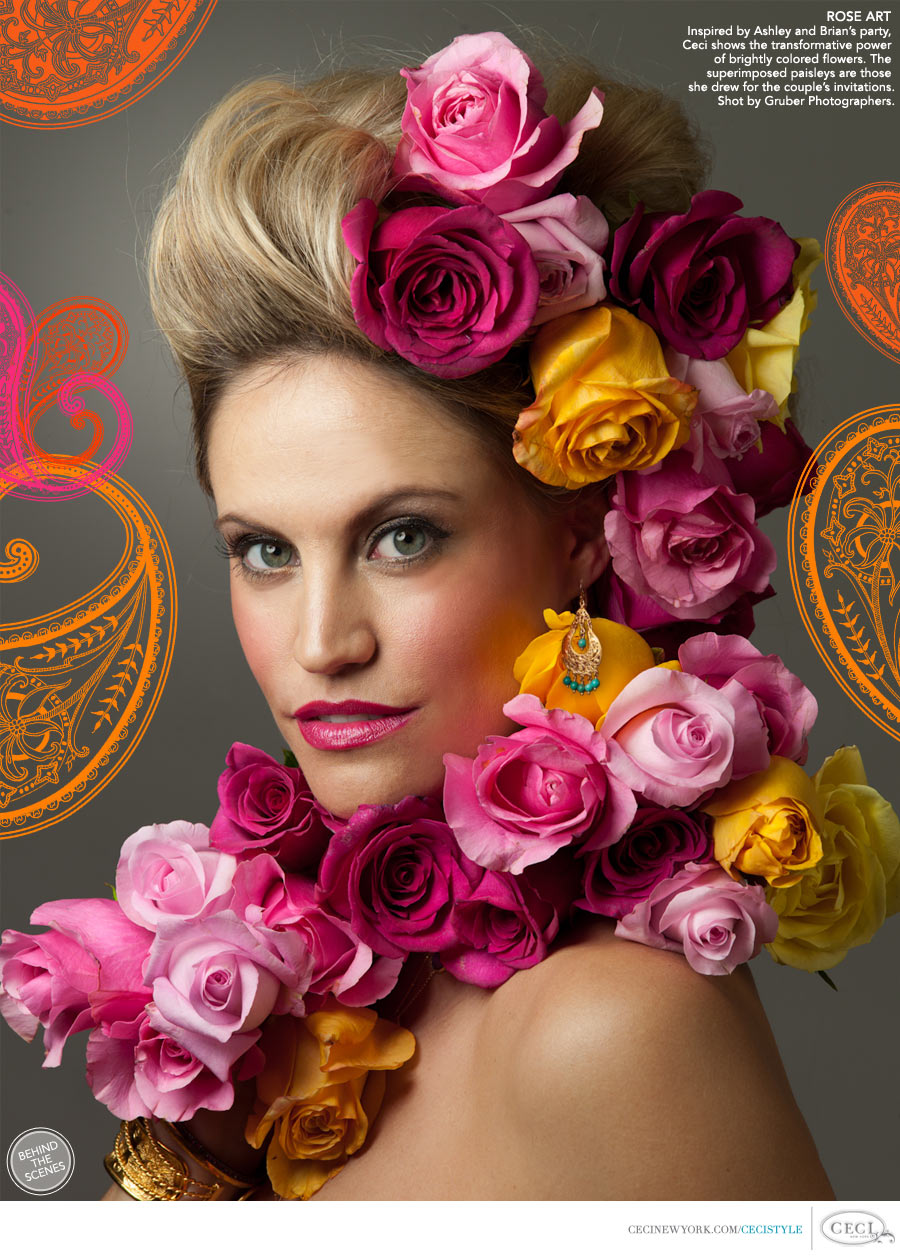 Photography by Gruber Photographers
View the Behind the Scenes now!