V33: Ceci Inspirations - A Day at The Plaza
A DAY AT THE PLAZA
Ah, the Plaza! For those planning a classic wedding on a grand scale, there really is no better place to get married.
As soon as my clients Erin and Peter booked their wedding at this glamorous New York landmark, they approached me to design their invitations. Of course, even when a wedding is as traditional as can be, there's no reason one can't get creative. Which is why – with Erin's blessing – I decided to add some oomph. Using the stained-glass ceiling of the hotel's Palm Court as inspiration, I reimagined its design on the back of the main card, placing the couple's monogram in the center. I brought in more hand-drawn gold embellishment throughout the invitation, including the reply card and the envelopes. As I like to say, it was classic elegance redefined!
Because the Palm Court's ceiling continues to inspire me so much, I recently stopped by the renovated Plaza to enjoy a spot of afternoon tea with my dear friend Caitlin Monahan, the musical genius behind Darling Cait (that's us in the photo below, celebrating our shared birthday). Every time I visit, I can't help falling in love again with all the extraordinary details. If you're ever in the area, I highly recommend you stop by – even if it's for a quick peek.
Happily, it's not impossible to recreate the hotel's rich mood of golds and creamy pastels no matter where you're planning to celebrate. Get started by checking out my roundup of ideas in Get the Look. Then, to see how it's really done, scroll down for the dreamy photos from Erin and Peter's Plaza nuptials.
This week I'm also excited to offer you a free, exclusive download of Darling Cait's "Whisk Me Away," an unreleased track off her forthcoming, much-anticipated debut album "Never Say Never." I think you'll love Darling Cait's signature sultry vocals and whimsical toy instruments on this classic indie pop ditty, which also features trumpet virtuoso Joey Pero playing a rare Monette RAJA trumpet that he got from his mentor, the legendary Wynton Marsalis. Cait thinks it would work wonderfully on a bridal shower or engagement party playlist – or even at the ceremony as a fun recessional song! Finally, read on for priceless advice on elegant entertaining from event planner Marcy Blum, plus the scoop on the best hair for a Plaza-style wedding from celebrity hair artist DM. I think you'll agree: it's all so downright glamorous!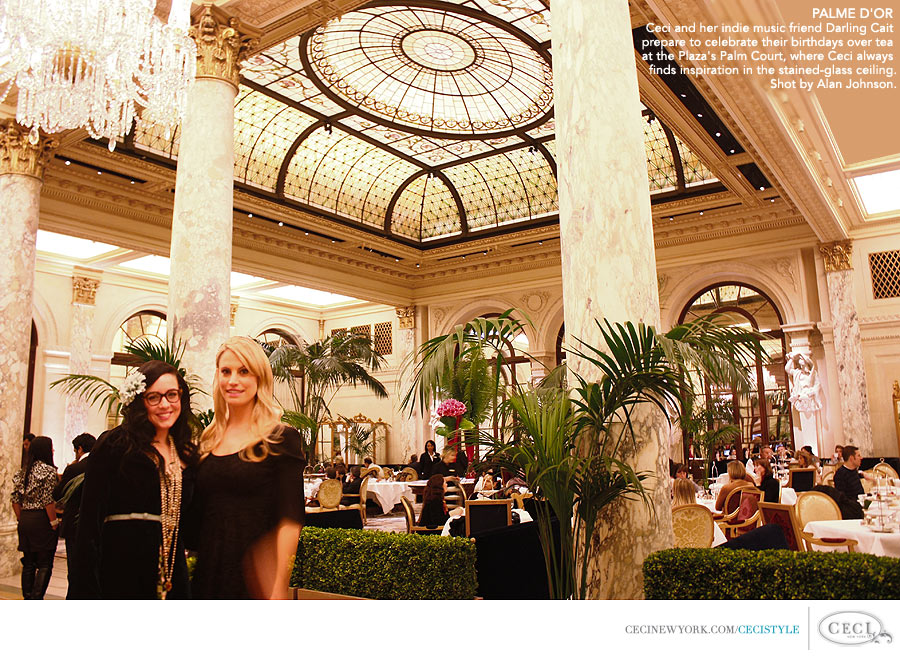 Photography by Alan Johnson