V30: Ceci Inspirations - A French Romance
A FRENCH ROMANCE
The French sure know how to do romance right. They really seem to nail the tone - it's always elegant, never over-the-top. This couldn't have been clearer to me than when I worked on the wedding invitations for a Frenchwoman named Isabelle and her American fiancée, Jimmy.
Isabelle, who comes from a wine-making family in the Loire Valley, was planning to hold her wedding in France - naturellement! As a venue, she picked Domaine de Beauvois, a beautiful 17th-century manor located in the same region as her family's vineyards. Because she preferred a classic look for her invitations, I chose only two colors: a bright French blue that I contrasted with simple white. To entice her guests, the biggest design element was a hand-drawn illustration my team and I made of the fairy-tale-like wedding location on the back of the main card. Plus, we created an ivy-framed custom crest that the couple also used on the gift boxes they gave out as favors. To welcome guests from both sides of the Atlantic, we made room for text in both French and English.
Happily, I was invited to the wedding and got to witness the lovely nuptials in person (that's me sitting in the manor's gardens, below). The whole affair was a great success, flowing with the family's delicious Hubert Brochard Sancerre; I do believe it's one of the best white wines I've ever had! Now, if this week's theme has you hankering for some French county charm, then check out this week's Get the Look, filled with spring garden items and soft, fresh fashions. Since Isabelle and Jimmy kindly shared their wedding photos with us, here's your chance to unlock the secrets of French wedding style. And, if you happen to be planning your own trip to France, don't miss Isabelle's guide to the Loire Valley. It's a region that no chateaux or wine lover should pass up!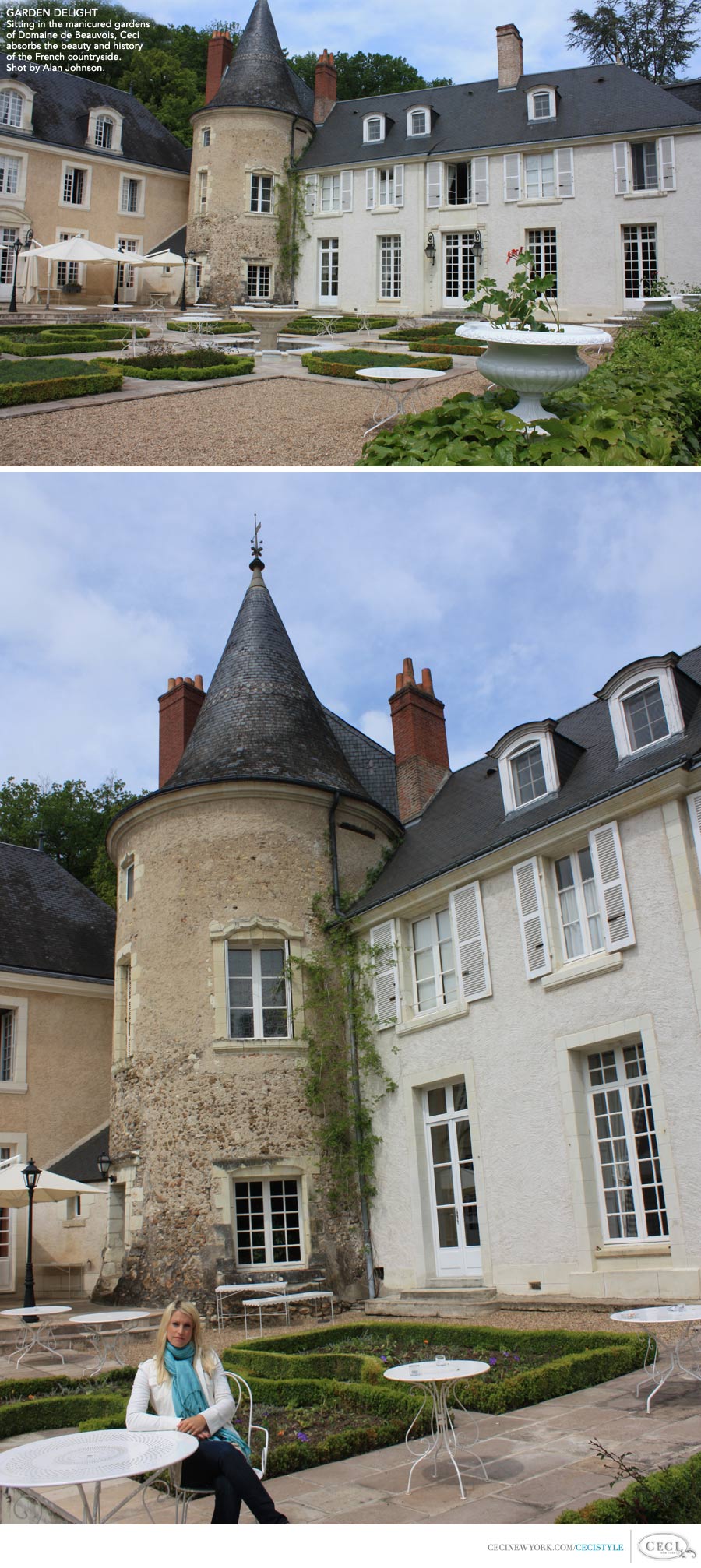 Photography by Alan Johnson