V29: Ceci Inspirations - Graffiti Glamour
GRAFFITI GLAMOUR
Sometimes, the unlikeliest things - like a vandalized wall - can inspire us to create a thing of beauty. That's what happened when a lively New York couple named Dina and Alexandros approached me to design their invitations.
The pair wanted something with an urban soul - or as they called it, a vibe where glam meets grunge. As we talked about the look of their invitations, I immediately thought of a graffitied wall that I had come across while walking in New York's Soho. Covered in tags spray-painted in hot pinks and glowing yellows, the messy building facade had something raw but beautiful about it (that's me standing in front of it in the photo below).
Of course, I also wanted to incorporate as many details as I could that told a story about the couple: the park bench where Alexandros proposed, the restaurant where the two toasted their engagement (New York City's The Coffee Shop), and the city's geometric skyline. When I combined these specifics with the loose graffiti vibe of the wall - and used plexiglass instead of paper - the final effect was bright, stylish, and just a little gritty. As a final urban touch, I chose a candid, black-and-white shot of the couple kissing for their thank-you cards.
If you're like me and the stylish hustle of city life makes your heart beat a little faster, then this issue is definitely for you. First, photos from Dina and Alexandros' dazzling wedding, held in New York City. There's also a roundup of neon-inspired fashion, plus tips on bold entertaining from Sofia Crokos Events and Levy Lighting. Don't wait - city life is calling!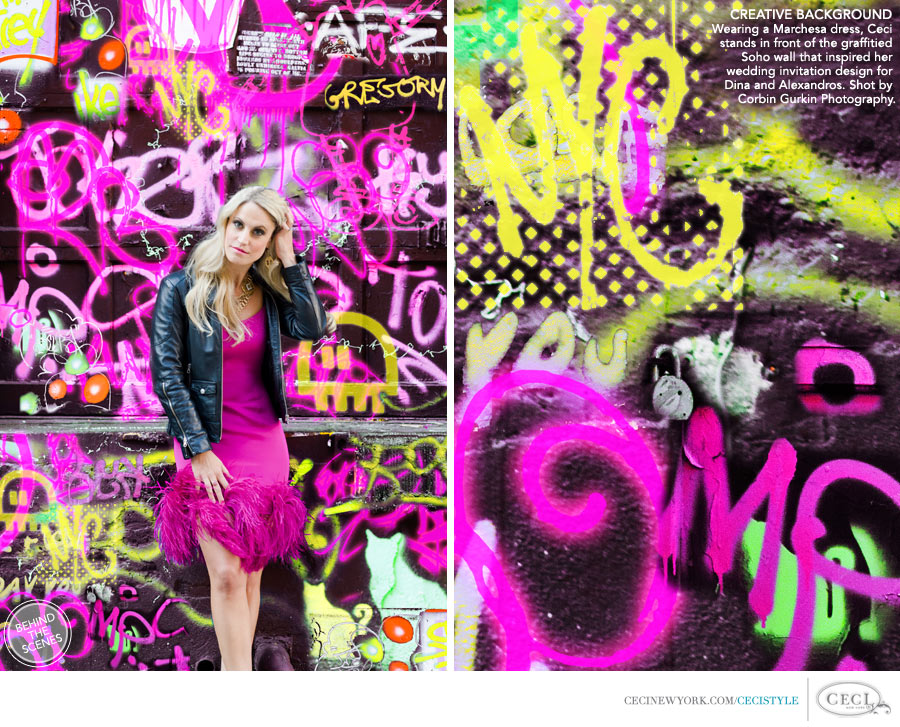 Photography by Corbin Gurkin Photography
View the Behind the Scenes now!