V27: Ceci Inspirations - Thai Paradise
THAI PARADISE
I don't know about you, but the dead of winter has me craving warm beaches and sunshine on my skin. To help us all escape the cold, I thought it would be fun to jet off to Thailand - at least in our thoughts! So this week I'm revisiting my honeymoon and the wedding of a wonderful client of mine named Jacquelyne, both of which took place in Thailand.
Since I went there first - Jacquelyn approached me just as I was finalizing my trip - I knew I would have an advantage when designing her invitations. Sure enough, I was inspired the minute I stepped foot in this tropical paradise. As my husband, Alan, and I toured the island, I took in as many details as I could - it's almost as if I couldn't even help it! When I finally made it back to my New York office, I had an endless supply of ideas at my fingertips, which I planned to incorporate as elegantly as possible into Jacquelyne's wedding invitations.
First I chose a white-and-teal-blue color palette, with some sandy tones thrown in. As for motifs, I started with patterns based on intricate woodcarvings I had seen on buildings and artwork in Thailand. I then paired them with sophisticated palm fronds, starfish, and shells. Since it was a destination wedding, I made sure the invitations were as informative as possible by adding a map of the island as well as a list of activities. From start to finish, the experience was simply fantastic—I can't emphasize enough how much I enjoy bringing a love of culture and travel into my work.
To set the scene for gorgeous Thailand, I've included a few favorite snapshots from my honeymoon, below. Also, this week's Get the Look has a host of ideas that will help anyone capture Jacquelyne's breezy-chic wedding vibe. Then read on for expert wisdom from Shai Tertner of Shiraz Events and wellness pro Margaret Rubin. Plus, I've compiled a highly personal list of top-ten things to try in Thailand. Trust me, it's too much good information to pass up!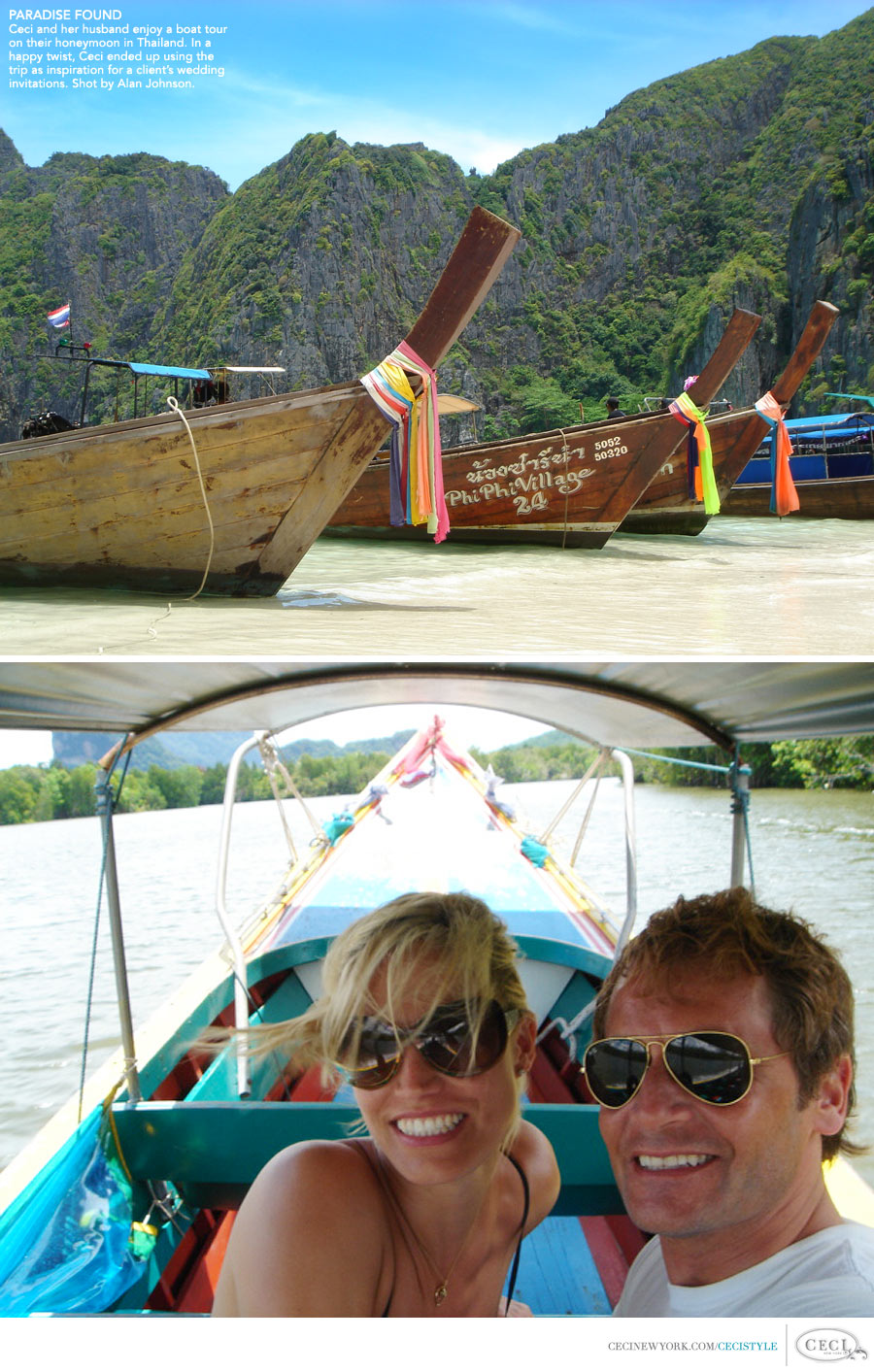 Photography by Alan Johnson