V267: Ceci Inspirations - Splish Splash – It's Mason's 4th Birthday Bash!
SPLISH SPLASH – IT'S MASON'S 4TH BIRTHDAY BASH!
This week I'm beyond happy to share with you the under-the-sea 4th birthday party I threw for my not-so-little-anymore son Mason! I have to admit, going into the planning and prep, I didn't know how I was going to top last year's race car bash. He loved that party and is still obsessed with Lightning McQueen (so much so that he bestowed that nickname upon his baby sister). After a few chats with Mason, we decided to make use of our new pool (which I can never get him out of), the last days of warm weather, and his love of sea creatures… So, I welcome you to Mason's Under-the-Sea Swim Party!
Even though I do this day-in and day-out for my clients, the pressure was on to set the tone for this special celebration. I knew I wanted to paint the sea animals just for him. Truthfully, it brings so much joy to see how excited he gets through my creativity. Watching the animals come to life before his eyes and the excitement he feels when mommy is making this only for him and his birthday is everything! It's the simplest thing to me, yet it makes such a huge impact on him. So, three consecutive late nights of painting later (you can see my behind the scenes here), I finished my series of sea creatures. To make sure I stayed on the right track, I even had Mason up for early morning critiques. Polished off with hand-lettering and fish toys for the kids to find once they opened the invites, this year's invitation was a blast to create even with the toughest critics waiting on the other side (all of Mason's friends!).
Seeing it all come to life through Mason's eyes was the icing on the cake. I so appreciate that my friend and talented photographer Thisbe Grace could spend this time with us and capture all of the joy and, especially, the many talents of the amazing team who helped me pull this all together (it really does take a village!).
Kicking off the creativity is Elisa Strauss of Confetti Cakes. This is the second year she's taken my watercolor illustrations and created an unbelievable sugary confection. How fun is my octopus transformed into a cake? I was so impressed – no – blown away! As soon as it was revealed, all of Mason's friends gathered around to take her in – and to get in line for a bite of a tentacle or two. It was devoured in seconds!
Zoku Pop Molds in the shape of sea creatures helped everyone stay cool and refreshed during the party. Whales, fish and scuba divers were all on the menu and they instantly make you look like a party-planning whiz (forever thankful for that!). The pops were such a hit with Mason that I now fill the Zoku molds with healthy smoothies for him to have at breakfast or as a fun snack! And my friends at Eleni's New York helped to enhance our under-the-sea theme with their custom Color Me! cookies that come with safe, edible markers for the kids to decorate and make their own aquatic treats. We love them so much, it's kinda become a tradition now at Mason's birthday parties.
Looking back on this year's festivities as I collaborate with my team on this special, personal issue, I've become extra emotional as I am realizing just how fast time truly does fly. I cannot believe my baby is 4 and that another little baby will be here soon enough – it seems like just yesterday that he was born. I'm incredibly grateful and love that I can relive and share these special moments with you, my friends and fans.
Let's venture under the sea, shall we?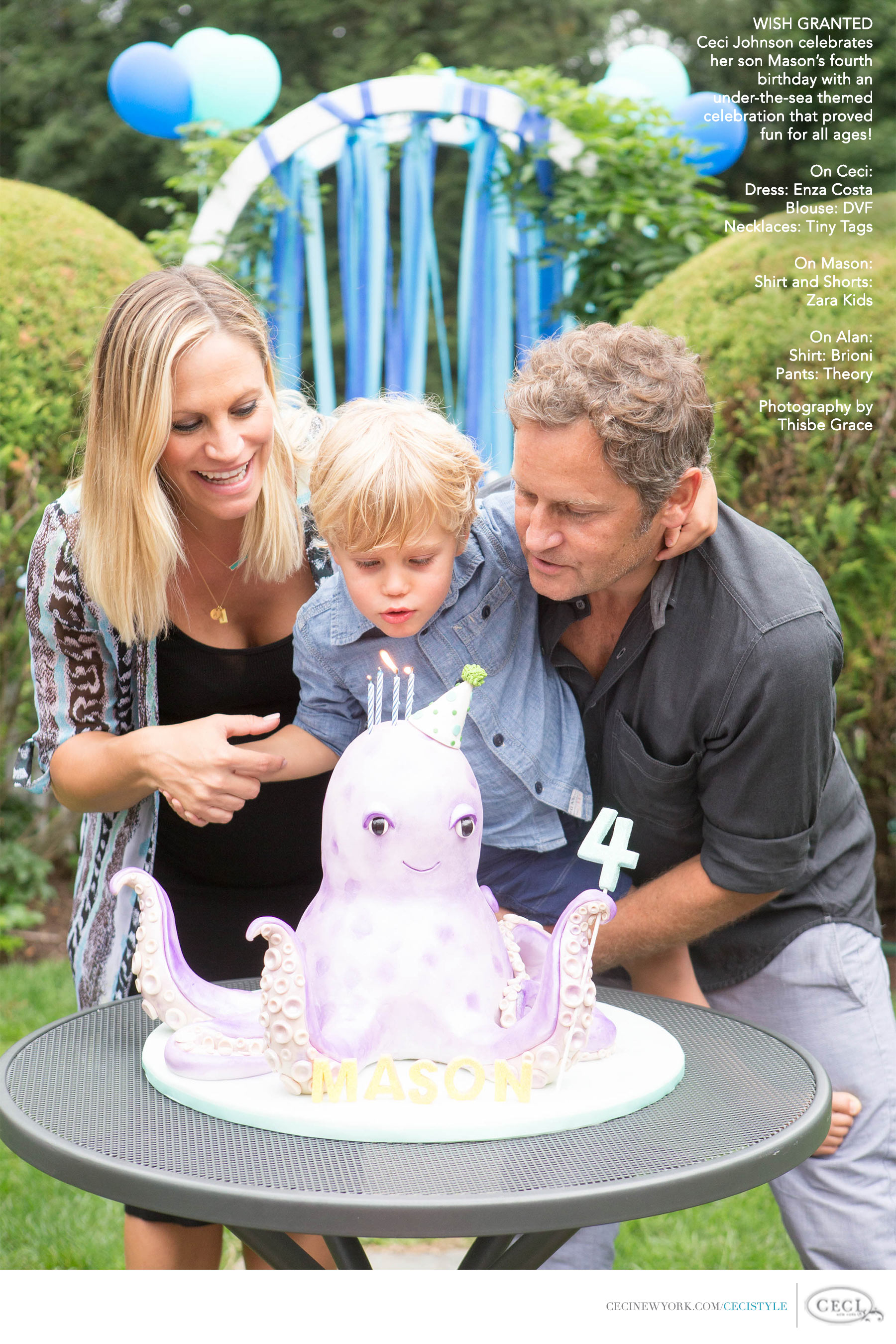 Photography by Thisbe Grace
THE CREATIVE TEAM: Photography: Thisbe Grace Cake: Confetti Cakes On Ceci: Dress: Enza Costa Blouse: DVF Necklaces: Tiny Tags On Mason: Shirt and Shorts: Zara Kids On Alan: Shirt: Brioni Pants: Theory