V265: Ceci Inspirations - Hello, Baby!
HELLO, BABY!
We're back! I want to give a big, warm thank you to all of our loyal fans and followers for your patience while we took some time out to focus on our own projects here at Ceci New York (more coming on that very soon!). And I'm thrilled to be returning to you all with this extra special issue and some very exciting news!
It's hard to fathom that four years have passed since I announced I was expecting my first child, Mason. As we all know too well – especially my fellow moms out there – time flies. I almost can't believe it, but here I am starting all over again with baby #2. This time it's a GIRL!
Being the oldest of three girls, I always dreamed of having a girl myself. I can't wait to French braid her hair, play dress up, pretend to be pretty princesses together sipping tea and singing Disney songs (yes, I admit I'm still a sucker for a good Disney movie and secretly dream of being the voice of the next Disney character… if only I could have been the Little Mermaid – ha!).
I am feeling incredibly grateful not only to be expanding our family and bringing more love to it, but also thankful that this pregnancy has been relatively easy. I find myself not too stressed out or consumed with worry about the unknown since I've done it once before. Unfortunately, there are still the unavoidable things like the swelling (so unlucky for me). I have, however, found my go-to fashion fixes that will take you from resembling a miserable, huge whale to feeling like yourself again. Have a peek at my Fabulous Finds to keep you looking beautiful and, of course, chic throughout all nine months (tip: jewelry is key for pregnancy glam as it always fits!).
One of my favorite projects that I'm working on is for our newest family member. I am like a kid in a candy store creating her room and designing for a little girl. It just melts my heart and gives me so much joy! I don't want to reveal too much just yet (more to come after Baby Girl Johnson arrives), but please enjoy a sneak peek of my inspiration and color palette.
Lastly, this issue wouldn't be complete without a heartfelt thank you to my talented friend and photographer Thisbe Grace. She flew all the way from Texas to capture these special moments. I am beyond appreciative that I will always be able to savor and remember this remarkable time.
Here's to the last few nights of restful sleep!
XO,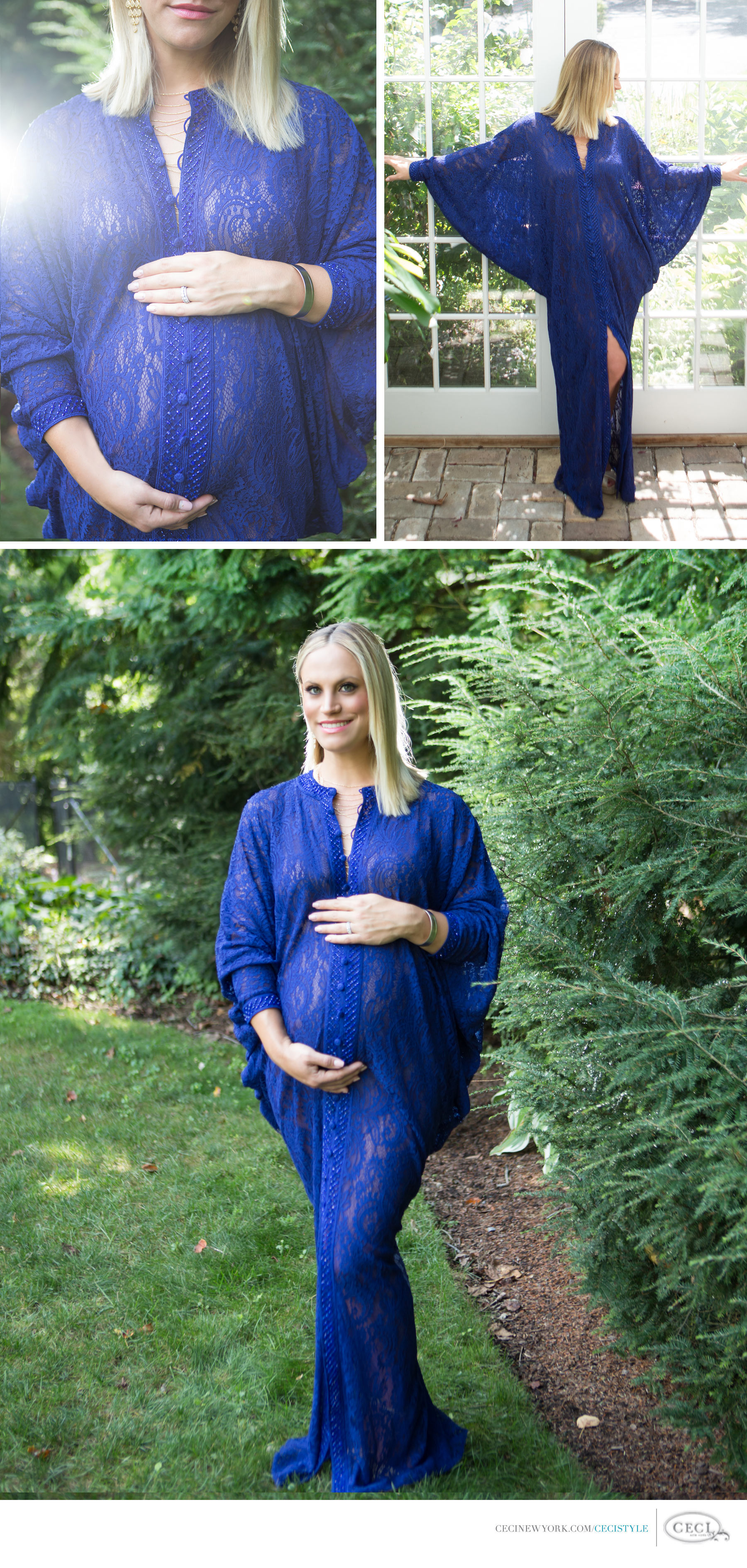 Photography by Thisbe Grace. View the Creative Team in Behind the Scenes.
THE CREATIVE TEAM: Photography: Thisbe Grace Hair: Christopher Noland Salon Makeup: Salon Naomi Dress: Tadashi Shoji Necklace: ABS by Allen Schwartz at Bloomingdale's Earrings: Carolee at Bloomingdale's