V258: Savvy Style Advice - Cameron, Real Bride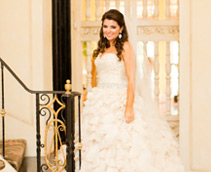 CAMERON Your wedding is the first time you get to introduce yourselves as a couple to those you love, which I think is so exciting. You are able to give your guests a peek into your relationship and love for each other, so it's important to make it about the both of you. While I think it's great to follow some family traditions, don't be afraid to be unique and do things your way. You will never please everyone, and that's okay! Always be gracious to those who you're working with and, most importantly, listen to the people you hired! They are successful in the industry for a reason.
What It's Like to Be a Ceci New York Bride: The best part about the planning process is working with people who help make your dreams come true. Ceci is the epitome of this. From the moment you walk in her studio you are on this amazing, creative journey. The first time I sat down with Ceci, it was like she was an old friend who I was catching up with. By the end of our conversation she had drawn this gorgeous suite full of everything I loved and what was important in our love story. I still look back in awe at her designs and how well they represented us. Ceci really helped set the tone for our entire wedding and make it the most beautiful day of our lives.