V252: Savvy Style Advice - Dahlia, Real Bride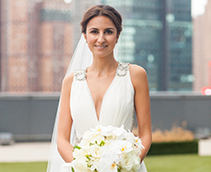 DAHLIA My best advice to a future bride would be to enjoy every moment of planning, not only personally but also with your fiance. The process can be incredibly fun albeit stressful at times, but always remember this is an opportunity of a lifetime! Take the time to enjoy it, together.
What It's Like to Be a Ceci New York Bride: Working with the Ceci team was absolutely wonderful. Their attention to detail throughout the process is phenomenal, and the end product is a testament to that. The team has an incredible taste level, which made it easy to land on something we absolutely loved!