V251: Savvy Style Advice - Sally, Real Bride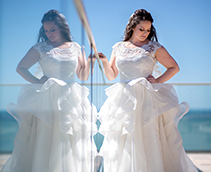 SALLY I thought I had done my research, searched through the magazines for inspiration on colors, flowers, wedding accessories, etc., but when it came time to make decisions, I felt overwhelmed and unsure.
I would advise finding someone (a relative, friend, stylist) whom you trust to brainstorm and talk through ideas out loud. Once I did that, with Ceci Johnson's help and the help of my florist, Jim Rauch, everything fell into place. The result was an elegant, fun, loving wedding weekend. I feel very blessed.
What It's Like to Be a Ceci New York Bride: Ceci's team really helped us make our thoughts, feelings and dreams come alive in a colorful, elegant suite of inspiration. From there my wedding planning really took off!
Ceci and her team are beyond creative and supportive from the first phone call to the final product (and even after!). They are patient, honest and produce fabulous works of art! We hired them for our invitation suite, and it quickly grew to table signs, place cards and more.
I am so thankful to have this creative experience and owe it to Ceci and her team for bringing my dream wedding to life!