V250: Savvy Style Advice - Tamara, Real Bride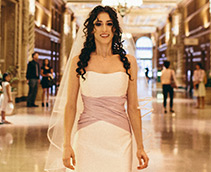 TAMARA No matter how many times people tell you that it's all about you, don't buy into the hype. You will be happiest on your wedding day if your friends and family are happy too, so pay attention to what will make your wedding easy and enjoyable for your guests in addition to what you and your fiancé want.
What It's Like to Be a Ceci New York Bride: You're not working with vendors, you're working with artists.