V245: Savvy Style Advice - Lindsay, Real Bride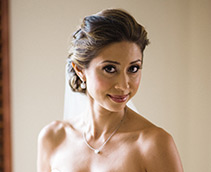 LINDSAY Your engagement and wedding day will fly by! Really take the time to enjoy your engagement (wedding planning alone can be overwhelming) and your wedding day. Plan a moment for you and your hubby to be alone to really take it all in on your special day. One of my favorite things was that our videographer filmed each of us separately before the wedding. We each recorded a few words to express our feelings before we walked down the aisle. The best part was that they played this, along with highlights from the wedding, at the end of night. It was such a special moment that I will never forget!
What It's Like to Be a Ceci New York Bride: Ceci Johnson and her team were great! I really wanted a customized, unique invitation that captured our "rustic elegance" theme. Ceci sat down with me on day one to discuss my ideas and help me design our perfect invitation. She was so friendly and inspiring! Everyone on her team was equally helpful and very professional. Anytime I had a question they responded immediately, which is always a plus for the stressful bride! I received so many compliments on our invitations. They were truly stunning. Thank you!