V241: Ceci Diaries - Ceci Johnson Shares her Tips and Lessons Learned to Brides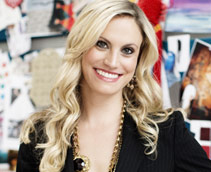 BRIDE TO BE, LET IT GO by Ceci Johnson
I vividly remember the moment when one of my bridesmaids and best friends noticed the incredibly worried, stressed-out look on my face. She was doing my hair on the morning of my wedding day, and she leaned over, squeezed my shoulders, gave me a kiss on my cheek, and said, "You have to let it go. That's why you've hired all these amazing professionals: to do their job. They're here for you. It's your job now to relax and enjoy your own wedding day." And with that, she handed me a glass of champagne, and I tried not to worry anymore. Her words were spot-on. She hit the nail right on the head because I was spending so much time worrying about how it was all going to turn out. I mean, I am a perfectionist, after all. But she was absolutely right. At that moment in time, the day of my wedding, I had to release with love and trust my creative team to do everything I had been dreaming about for the last year. Because let's be real here: they are the experts at this, and we did go over it 15+ times to make sure it was perfect. Not to mention, I did have my incredible wedding planners there (love you David Reinhard) to take care of the details – that IS their job, for goodness sake!
Once I let go, I clearly remember starting to enjoy the magical day that was my wedding. I realized then and there that no matter what happened, it was my wedding day, and I just needed to go with the flow and take it in and make the most of everything, flaws and all. Because truthfully, none of the guests really knew exactly how it was supposed to be. They were just there to celebrate our love, not critique whether the escort cards were straight or if the DJ played my favorite song at just the right moment. To them, it was all beautiful. The worrying was getting in the way of me enjoying every detail I had spent so much time planning during my engagement.
I've been in the wedding business for 10+ years now and have seen countless brides freak out like I did and make a huge deal over things they couldn't fix. Crying at your wedding because your flowers are not the precise shade of pink to match your bridesmaid dresses is probably not the best use of your time, now is it? It's Mother Nature we are talking about here, plus, under candlelight, it's all going to look like it's meant to be, right? Focus on loving up your new husband and celebrating with your closest friends and family. The day is entirely yours. That's what makes weddings so special. No one will ever notice the pink flowers. They're too busy staring at how gorgeous you are!