V240: Savvy Style Advice - Ekaterina, Real Bride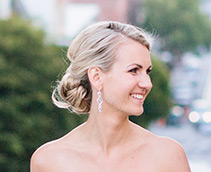 EKATERINA Develop an overall feel and theme for the wedding in the beginning and the details will fall into place, allowing choices to be narrowed down more easily during the process!
What It's Like to Be a Ceci New York Bride: Ceci Johnson and her team were incredible to work with. I felt like Ceci knew exactly the look I was going for and delivered above and beyond what I expected. When we imagined our wedding we wanted people to feel as if they stepped back in time to when ladies dressed in large ball gowns and men in tuxedos to attend elaborate events. To a time when gold prevailed and tables were adorned with beautiful large centerpieces and candelabras and dances took place in grand ballrooms. Our idea was to transport our guests back in time to 18th-century Europe, and we envisioned a Marie Antoinette-style affair. We chose venues in San Francisco that had old-world charm and decided on City Hall as our ceremony location with its large oval dome and rotunda with a cascading staircase. The reception followed at one of the oldest buildings in San Francisco, the Palace Hotel in the Gold Ballroom (very fitting). We wanted our guests to feel our wedding inspiration from the moment they received the invitations. Ceci went to museums in New York and found beautiful pieces of artwork that exemplified our theme to create amazing designs. The invitation set was so stunning we had guests saying they looked like artwork that should be framed! We also fell in love with the logo crest that Ceci created and used the design throughout the wedding to bring it all together, from the napkins to the water bottles we incorporated in our wedding baskets.