V239: Savvy Style Advice - Kate, Real Bride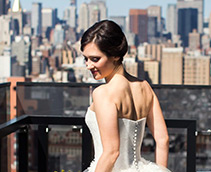 KATE If you are having a big wedding, be prepared to run into problems with your guest list. If you have a limit, use your invitations wisely and invite the people whom you truly love. Especially if your guests are receiving a Ceci New York invitation, they should be honored by getting that invitation in the mail.
What It's Like to Be a Ceci New York Bride: We obviously wanted everything in our wedding to be unique to us as a couple and also to our theme. Ceci Johnson took all the pressure off of having to come up with original ideas on our own by incorporating a level of creativity and originality to all printed materials that actually helped inspire the rest of our wedding.