V237: Savvy Style Advice - Carol, Real Bride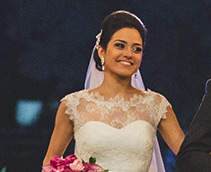 CAROL First and above of all, enjoy the process! The time leading up to your wedding passes so quickly, you will be begging to relive the simplest day of wedding planning one more time. If I could give advice to a bride-to-be, it would be to share! Share all details, dreams, delights, doubts, and insecurities with all of the special people in your life, and mainly your future husband. Memories are the essence of why we celebrate events, so you must create those memories as best as you can.
What It's Like to Be a Ceci New York Bride: When I saw a Ceci New York invitation on a Brazilian web site, I couldn't imagine any other designer to make our invitations. During a trip to New York, my fiancé, parents and I stopped by Ceci's showroom, and that was by far one of our best experiences during the wedding planning! From the beginning to the final details, the team was perfect. They were organized and punctual and exceeded all of my expectations – the process was a wonderful experience. The best moment? When the order was delivered and we opened the perfect packet with beautiful ribbons to see the final result…no words could describe the sensation. We were so excited that the big day was arriving!