V232: Savvy Style Advice - Carter, Real Bride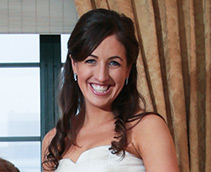 CARTER When you're planning your wedding, find a handful of people who can help you through the process. Too much input can get confusing and take away from what you want, so keep your "team" to a select few.
Your actual wedding day flies by, so allow all your planning to carry you through without stressing the details. And just roll with the punches if something goes unexpectedly. I got the flu over my wedding weekend. How unfortunate is that?! While I wasn't feeling 100%, I didn't let it overtake the experience – accept those little things that can pop up and go with the flow because your guests will probably never know. As they say, every wedding has its story!
What It's Like to Be a Ceci New York Bride: Working with Ceci removed so much stress as she and her team were incredibly reliable, friendly and full of wonderfully creative ideas that we would never have thought about.
Brad and I were not bent on tradition and therefore felt that Ceci's style would be the perfect way to incorporate some whimsy into our winter wedding invitations. The result was a beautiful nod to New York City in the winter. So many friends commented that our save-the-dates were the best they had ever received, and the invitations certainly followed suit with their clean design, unique colors and impeccable quality.
As every bride knows, once the wedding is over, it is always a bit of a let down, and that "what's next" feeling quickly creeps in. One of my first thoughts was, "What excuse can I find for Ceci to design something else for us?" Brad and I may have answered that question recently as we are expecting our first little one and would be thrilled to work with Ceci and her team again for all things baby!