V213: Savvy Style Advice - Ty, Real Bride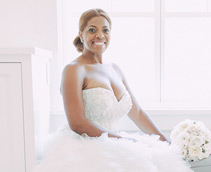 TY Bond with your vendors! I threw a cocktail mixer for my vendor team about three weeks before my wedding. There is a BIG difference in seeing someone's name on a call sheet and spending some face time with the people you'll be working with for eight hours straight. It made our day cohesive and amazing!
What It's Like to Be a Ceci New York Bride: I so loved my experience with Ceci New York! My wedding story began as a long-distance romance (we even met at a destination wedding!). Khaleb would drive from Arizona to see me in California, and I literally used a million frequent flyer miles (well, 986,392 miles to be precise) to fly to see him. So when I saw the boarding pass invite made by Ceci New York, I immediately knew it was the exact style I needed for our jet-set theme!
Working with their team was such a bonus because they were fun, understanding and professional. After a few phone calls and email tweaks, my invitations were ready to be shipped. When they arrived, I felt like a kid on Christmas morning! Each aspect (paper, design, ink, font) was everything I dreamed of! It really set the tone for our wedding planning to be a success. To add to it all, just about every guest contacted me to comment on how amazing our wedding invitations were!
I would absolutely recommend Ceci New York to take care of you and your wedding invitation needs. I even Instagrammed my invite because I loved it so much, and got so many "likes" from absolute strangers. Thank you, Ceci New York (and your fabulous team!), for helping set the tone for our most special day! Next up, baby announcements!