V212: Savvy Style Advice - Regan, Real Bride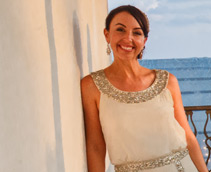 REGAN
If you are having a destination wedding, include some events before and after the big day to give your guests an opportunity to get to know your destination and each other, and adjust to the time difference. We spread our support across many local businesses to give a true insight into Sri Lanka and its culture, and create a whole 360-degree experience for our guests. Of course these were all listed in our Ceci New York activities booklet included in the invitation suite, which added to our guests' anticipation!
What It's Like to Be a Ceci New York Bride:
Being a Ceci Bride was truly the best decision I made in the entire wedding planning process! And certainly the most fun!
My fiancé and I chose to be married on the south coast of Sri Lanka, and my vision was to incorporate the colonial glamour and historic richness of Galle Fort with the casual vibe of the Sri Lankan tropics.
Keeping in mind that Sri Lanka was going to be hot and steamy at this time of year (just prior to the wet season), and that our guests were traveling from Australia, New Zealand, Dubai, Singapore and the U.K., we wanted our wedding to be fun and relaxed but still have a strong sense of occasion.
I was having difficulty bringing my ideas of glamour in the tropics to life, but when I collaborated with the Ceci New York team, they knew exactly how to translate my ideas into beautiful invitations and accessories. The invitation suite worked beautifully to give our guests insight into our occasion before the day, and the style of the accessories added a more formal touch to an otherwise relaxed, fun beach wedding.
Ceci Johnson and her team were the ultimate professionals with a level of detail and personalized service that made them an absolute dream to work with, even from the other side of the world in Dubai.
The fact that I was more excited about receiving colour samples and design ideas from Ceci New York than I was about choosing my wedding gown, or any other part of the planning, is testament to this.