V210: Savvy Style Advice - Ndali Data, Real Bride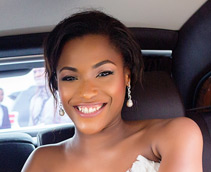 NDALI DATA Don't sweat it. The day is such a blur and once it happens, it's hard to believe all your hard work and stressing have come to an end. And trust me, you can't have every single thing perfect. So relax as much as you can.
The most important thing you need to do is prioritize your relationship with your future hubby over the wedding day. It's easy to forget there's life after that day and the reason you're having a wedding in the first place. Make a conscious effort to check out of wedding mode periodically and focus solely on yourselves.
What It's Like to Be a Ceci New York Bride:
Working with Ceci New York was surreal because I had always admired them from afar and never thought it would actually happen. Ceci Johnson and her team did a lot of things to make me feel special. From the Skype calls, constant updates via email and general check-ins even after the invites were delivered, it was hands down the best customer service I've ever received.