V208: Savvy Style Advice - Jessica, Real Bride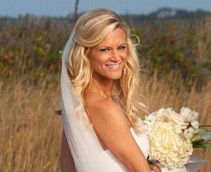 JESSICA Stick to your gut. There are so many options and ideas out there, especially now that there is Pinterest. I've known so many people who have a hard time making a decision because they are overwhelmed with ideas. I wavered a bit too on certain things, but at the end of the day the ideas I originally gravitated toward were what I chose. They were my style and more "me," and that's what you really want you to reflect on your wedding day!
What It's Like to Be a Ceci New York Bride: Working with the Ceci New York team for my wedding was probably one of the easiest experiences of the whole process. They were friendly, organized, helpful and 100% on their game from start to finish. From the account team to the designers to Ceci Johnson herself, it was a hands down pleasurable process. Literally any design element I wanted to add, they could do. Any deadline I needed, they made. I had no idea that the invitations were going to be my favorite part of the wedding process!