V207: Savvy Style Advice - Meghan, Real Bride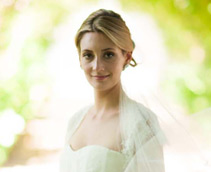 MEGHAN First, do whatever you have to do to love the entire process! Don't let small stresses get in the way of generally being happy. The actual wedding day is completely magical but it truly does go by faster than any other day that you've ever experienced. So, use your entire engagement and the planning process to have fun and celebrate. Have a spectacular bachelorette (or "hen" as we call it in the U.K.) party, enjoy dress shopping and drink champagne as much as you want. Use shoe shopping as an excuse to get together with your girlfriends, and make every wedding-related outing an excuse for a date with your fiancé. Just do your best to make planning magical, not a chore.
Second, remember that your guests are a huge part of what make the day amazing. So, treat them well and try to make your wedding enjoyable for them. You won't regret it for one second!
Finally, whatever you feel on your wedding day is okay, even if it's not what you were expecting. Do your best to relax, go with the flow, and take moments off to the side to see and feel it all.
What It's Like to Be a Ceci New York Bride: The entire stationery design process was incredibly fun. We live in London, so at first I was nervous about not being able to actually be in New York to meet in person. However, through phone conferences, shipping paper samples back and forth, and the detailed designs that Ceci Johnson and her team created, the long distance designing wasn't a problem at all.
The biggest takeaway from Ceci New York was that there is nothing they can't do. On our save-the-dates they created beautiful sketches of the gates, fountains, and buildings from the Italian estate where we got married. When I had my idea for our escort card book covers, I described what I wanted and they created exactly what I imagined in a way that I truly believe no one else could have. Then, they took the lace of my dress and drew it to use it as a pattern on our invitations and wedding day stationery. These are details that turned our stationery into items that excited our guests, rather than things that were simply overlooked. In fact, even after a year since the wedding, I still see them sitting out in some of our best friends' houses!