V205: Savvy Style Advice - Susan, Real Bride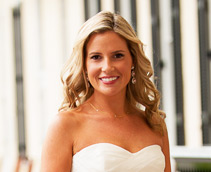 SUSAN Your wedding will be one of the few times in life that allows you the opportunity to be expressive, creative, spontaneous, and all about you! Remember to take a moment at your wedding to stop and take in the feeling of knowing that all of your closest family and friends are attending your party to celebrate you and the love of your life.
What It's Like to Be a Ceci New York Bride: Truly the most enjoyable, seamless, and comfortable experience throughout my wedding planning process. Ceci Johnson and her team are first-rate professionals with an exquisite creative eye and attention to detail. Ceci should know that I had so many guests comment that they have never seen invitations as beautiful as the ones Ceci New York designed for me.