V201: Savvy Style Advice - Hudi, Real Groom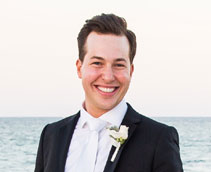 HUDI Divide and conquer. Don't make your bride handle every vendor and logistical detail. Grooms are more than capable of researching, hiring and managing different vendors and aspects of the wedding weekend. I handled the cake, caterer, entertainment, venue, etc. That way it was a team effort, and Kayla felt less stressed out and more able to enjoy the process.
What It's Like to Be a Ceci New York Groom: Every groom knows that all brides dream of this day from when they are little girls. Kayla's and my wedding was introduced with an amazing invitation from Ceci New York. We both sat down with Ceci Johnson for the design consultation. I was happy that I was able to give my input on all the stationery and got to add my own personal touches, like a Hebrew inscription around the edge. The excitement that the invitation instilled in our guests as the first touchpoint laid the setting for the wonderful wedding we had. It was the best day of my life, and I am happy that Ceci was able to make it even more amazing.