V198: Savvy Style Advice - Margie, Real Bride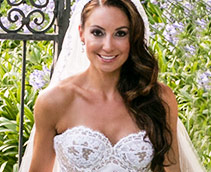 MARGIE It's your dream day, so ensure that you surround yourself with people that can help you bring your vision to life. Do your homework and over-communicate your concept. Remember to keep the process fun and always trust your gut.
What It's Like to Be a Ceci New York Bride: Ceci Johnson and her team provide the ultimate experience for design when it comes to couture invitations and touches for your wedding. Ceci New York dives deep into your world and the inspiration you provide during your consultations. Ceci knows exactly how to elevate your theme and take it to a chic and stylish level that carries throughout your wedding. Ceci has a flair for design and sophistication that is her calling card for every piece she delivers. And at the end of the day she provides your exact vision but a touch or two better!