V196: Savvy Style Advice - Lisa, Real Bride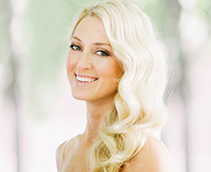 LISA Pull pictures from magazines and the web that represent what you like and what you don't like. I used Pinterest to keep track of everything. Being able to show our wedding vendors what we were looking for (and what we wanted to avoid) gave them a really clear picture.
What It's Like to Be a Ceci New York Bride: I really enjoyed working with Ceci Johnson and her team! Our invitation was challenging because we actually got married in Italy with just immediate family, so the "wedding" in New York was the party only. The ladies at Ceci New York took time to consider how an invitation could be adjusted to reflect a fun party feeling while still being formal and special. I also felt strongly about creating the perfect monogram for the back of the invite, and they really did a beautiful job.