V192: Savvy Style Advice - Natalie, Real Bride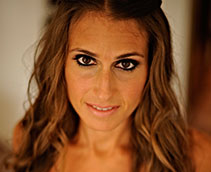 NATALIE Enjoy the planning process, as it goes by so fast. Find your vision and make it happen. If your budget does not allow for a wedding planner, splurge and hire one for at least the day-of. You want to enjoy your special day, and worrying about Aunt Mary getting her coat checked should not be a distraction. And most importantly, remember ladies, they don't sing "Here Comes the Groom"...
What It's Like to Be a Ceci New York Bride: The invitation sets the tone for what your guests should expect. I wanted a fun, festive yet classy NYC cocktail party to celebrate our marriage, and Ceci New York was able to create something that was elegant with hints of casual and fun at the same time.