V186: Savvy Style Advice - Ariel, Real Bride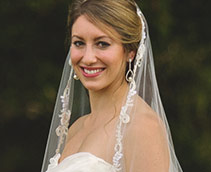 ARIEL Always remember that this is your wedding. You can ask for opinions from others, but ultimately trust your gut. Everything should reflect you and your soon-to-be husband.
What It's Like to Be a Ceci New York Bride: Ceci Johnson and her team were some of the most amazing people to work with. They are an incredibly creative group and will work with you to make your dreams come to life. When you decide to work with Ceci New York, you should know that you can immediately trust them. They completely listen to your feedback and are wonderful at explaining every step along the way. I hope to get to work with Ceci New York again in the future!