V176: Savvy Style Advice - Rachael, Real Bride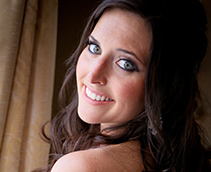 RACHAEL The wedding goes by in a flash and cannot be repeated, so make sure you do everything you want. The sky's the limit. And before you walk down the aisle remember to take three deep breaths, take it all in, and then...go!
What It's Like to Be a Ceci New York Bride: As the first thing that guests received, the invitations from Ceci New York set the tone for the wedding, showcasing us as a young couple and bringing in some fun. We especially loved being able to incorporate the crest Ceci Johnson and her team created to tie the whole weekend together. We used it on everything from the seating charts and menus to the unity candles and cigar labels, even displaying it on our hotel gift bags!