V168: Ceci Inspirations - Mason's Monster Mash
MASON'S MONSTER MASH
Recently, my little love Mason celebrated his second birthday. Although I still can barely wrap my head around how fast time flies. It seems like just yesterday I was telling you about his nursery design! For this occasion, I was excited to create something fun, unique and truly special for Mason. A friend's photo of a monster cake on Instagram sparked the original idea, and I set out to re-imagine the monster theme in my own way.
Now you might be thinking, "How did Ceci pull this off?" I must admit that with all of Ceci New York's regular client projects, it was pretty challenging to fit this into the mix. It was clearly so important, but sometimes it's our own plans that are the hardest to focus on. So I found myself squeezing in watercolor painting sessions in the early morning before I even hit the Ceci studio. Monsters took over my life for a little bit, but it was definitely a labor of love. And the end result was a playful, monster-filled pop-up invitation that put smiles on the faces of both the kids and the parents!
The photos of the party itself, captured by the talented and endlessly patient Kristi Drago-Price, reveal the spirit of the day. Just remember that no matter how hard you plan and how good your intentions are, kids will be kids and may or may not behave how you imagined. I learned this the hard way; as it turns out, some of the activities you'll see in the snapshots are better suited for slightly older tots (no matter – I just may recycle!).
One thing I know for sure is that it's definitely easier to get by with a little help from your friends, and I'm lucky to have some pretty great ones. After I emailed him my watercolor monsters, award-winning caterer Peter Callahan of Peter Callahan Catering came up with three adorable, kid-friendly nibbles. Baker Elisa Strauss of Confetti Cakes sent over a cake design based on my illustrations that seemed too good to be true – or at least too fancy to make at home. But rest assured, if I, who am not a cook, was able to do it, so can you! It was much easier than I thought – click over to the tutorial to see how to create our amazing green monster cake.
As for Mason, he sure was happy about the turnout – although I'll admit it might take him a few years to fully appreciate everything. Thankfully we have plenty of gorgeous pictures to remind him!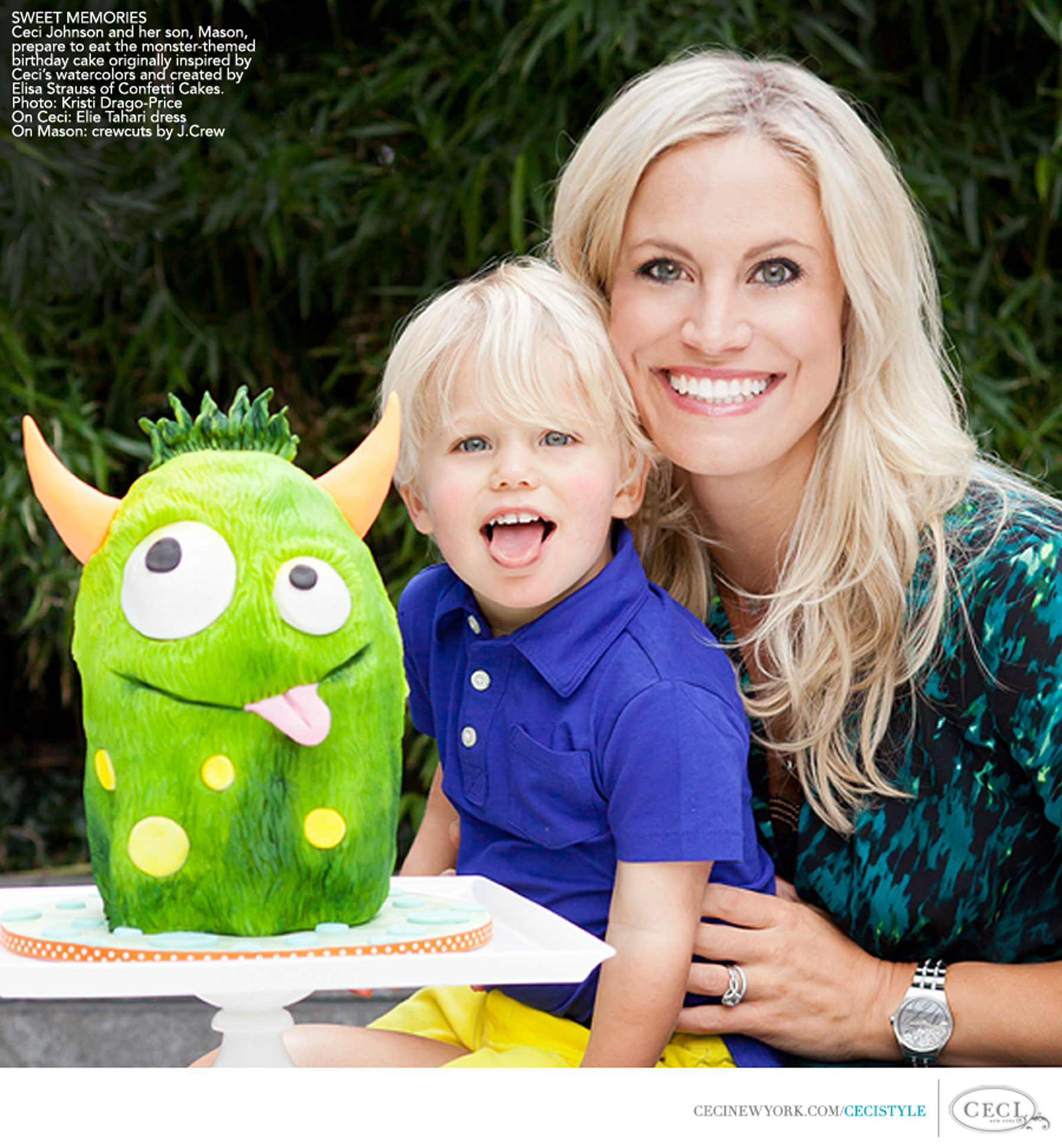 Photography by Kristi Drago-Price Photography. View the Creative Team in Behind the Scenes.
THE CREATIVE TEAM: Photography: Kristi Drago-Price Photography Food: Callahan Catering Cake: Confetti Cakes Ceci's Dress: Elie Tahari Ceci's Ring: SRW Ceci's Watch: Wintour Mason's shirt and pants: crewcuts by J. Crew