V166: Savvy Style Advice - Laura, Real Bride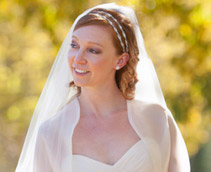 LAURA During planning I bought stacks of bridal magazines and pored over blogs like Style Me Pretty, compiling inspiration boards for everything: flower arrangements, invitations, reception décor, hair accessories, etc. I had inspiration overload! Choosing a consistent theme and style was tough because I liked so many things about very different weddings. However, staying focused on a couple of consistent themes kept a more unified feel and ultimately helped guide my decision making.
Everyone told me the wedding day would go by so fast, and they were right. It's a blur of activity, and it's so easy to get swept up in it. The best advice I got about the day itself was from my mother: Remember to keep pausing throughout the day to look around, take in the moment, and enjoy it. Those moments are now my best memories of a truly perfect day.
What It's Like to Be a Ceci New York Bride: I wanted my save-the-dates and invitations to convey the style and tone of the event and get people excited to travel to the Berkshires. I had a clear vision in my head of an art deco-inspired square stacking invitation suite and a vintage postcard save-the-date, but Ceci Johnson's team took what I wanted to new levels. Nothing was included that didn't enhance the overall effect. The design rounds were all so beautiful, and I really got the sense that I was talking through the pros and cons of each option with a trusted friend. No detail was too small for discussion, and they took my every comment and suggestion seriously.
With Ceci New York, what could have been a very overwhelming and confusing decision-making process became a really fun and exciting creative experience! The final pieces were the epitome of our wedding, executed to perfection. So many of our guests made a point to tell me that the invitation was among the most – if not the most – beautiful they'd ever received. I couldn't be prouder to be a Ceci Bride!