V165: Savvy Style Advice - Alice, Real Bride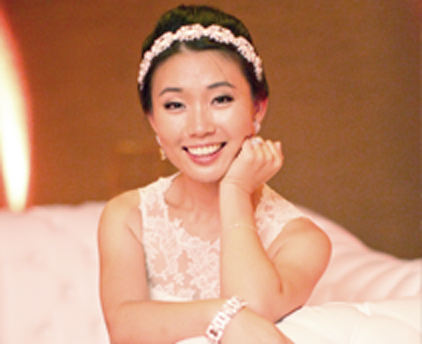 ALICE Having a planner and designer whose style, vision and personality matches yours is truly the best thing you can do to ensure that your wedding planning process is as smooth as possible and, more importantly, leaves you with results you love. Our wedding was everything that I dreamed of because we had our planner and designer, Jordan Payne, who understood everything I wanted and more, then made it all happen!
Don't be afraid to be creative and put your unique touch on your wedding, especially if you are creatively inclined. Having a balance of personally-crafted details along with professionally-produced pieces allowed us to have the best of both worlds. From simple items like the painted wine corks used for the place cards to the fabric flowers that were handmade with the help of my bridesmaid and mother, these handcrafted personal details truly made our wedding day special. The only caveat is to make sure you take on a very limited amount of these projects and leave the rest to the pros!
What It's Like to Be a Ceci New York Bride: There's really no equivalent to Ceci Johnson's designs. We visited Ceci New York in Manhattan, and even my groom was intrigued by the unique designs, formats and materials that could go into an invitation. It would appear that there is no limit to Ceci's creativity!
Even after we moved out of NYC to San Francisco, I was able to work with the Ceci New York team seamlessly to finalize the details of our invites. I found them to be incredibly intelligent, thoughtful and creative. It could not have been easier to design my invitations, and I loved every minute of it.
I've always believed, especially in this digital age, that a printed invitation is something truly worthwhile, and that an invitation sets the tone of a wedding. WE definitely succeeded in making a statement with our Ceci New York invitations, and all of our guests remarked that they loved them (even the guys felt compelled to give compliments!) and that they were by far the best invitations they'd ever received.