V163: Savvy Style Advice - Ceci New York Bride, Caitlin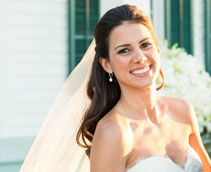 CAITLIN Know what is most important to you and your fiancé. It is so easy to get swept up in the planning process and to want to do it all, but you ultimately have to prioritize. Doing that will make your decisions much easier.
Also, keep your guests in mind. They are traveling from all over to share a special occasion with you and your families. The more fun they have, the more fun you will have!
What It's Like to Be a Ceci New York Bride: Working with Ceci Johnson's team was one of my favorite parts of the planning process. As someone who works in a creative industry, I appreciated how collaborative and inclusive they were of my ideas and opinions. They captured our style and personality in every piece.
I also appreciated their patience and accessibility. Within hours of receiving the first round of invitation designs, I was on a call talking through each option. They took my feedback and created an invitation set that was absolutely breathtaking.