V159: Savvy Style Advice - Jessie, Real Bride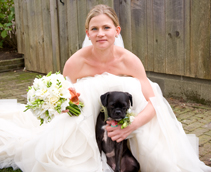 JESSIE If you have a lot of out-of-town guests who you don't get to see a lot, plan a number of events where you and your groom can spend time catching up with them. These get-togethers don't have to be over-the-top – people can meet at a casual restaurant, the beach, or a vineyard that gives you an opportunity to stop by and relax. We also arranged for our bridal party and families to stay in rented houses where they hosted casual BBQs and parties during the week before the wedding.
What It's Like to Be a Ceci New York Bride: Since most of our guests were traveling from overseas, we entered the process knowing that we wanted our save-the-date and invitation to get them excited about the trip. The team at Ceci New York did this in such an elegant and fun way that it set the tone for our entire wedding weekend. I also loved how creatively Ceci Johnson incorporated our personalities into the materials. Her designs were so gorgeous that two different guests gave us bedding embroidered with one of our crests!