V155: Savvy Style Advice - Indra, Real Bride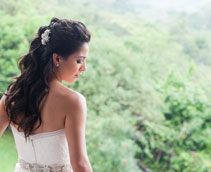 INDRA Definitely stay true to yourself and your vision. I was born in Mexico, and my husband is of Mexican descent. We both knew we wanted a very intimate wedding that would allow people to fall in love with Mexico and introduce them to our culture, which is so special to us. The Hacienda de San Antonio is a magical place, nestled in the "Valley of the Gods," with an organic ranch, coffee plantation and cheese factory. We were able to show our guests a side of Mexico that they had never seen before.
It was also important to me to spend a little extra time on the details and personal touches. Ceci New York definitely helped us accomplish that and make the wedding feel intimate and very special.
Lastly, planning a destination wedding had its challenges – I did most of the planning myself with the help of the Hacienda's event coordinator, Eva Meza. Working together, we were able to translate the ideas that my husband and I had into a reality. Ultimately, keep it true, simple and, most importantly, be yourself.
What It's Like to Be a Ceci New York Bride: Being a Ceci New York bride was amazing! We wanted an invitation suite that would set the tone for our wedding; Ceci Johnson did just that and much more. From the save-the-dates to our welcome tote bags, the Ceci New York team did a fabulous job listening to and designing our vision. They were organized and by far the most professional group of people I encountered during the wedding-planning process.