V152: Savvy Style Advice - Tara, Real Bride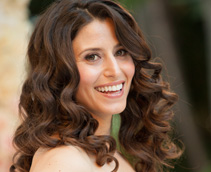 TARA Creating a vision board like the one Ceci Johnson and her team produce for every couture invitation is extremely helpful in focusing your ideas. Without that step in the process, I would have never been able to make a decision about the wedding.
What It's Like to Be a Ceci New York Bride: Working with Ceci Johnson's team was my favorite part of the wedding planning process! Each design round was more exciting and collaborative than the next and ended up informing the look and feel of the entire wedding. Once we solidified a look inspired by Monet's Garden, and I spotted the rose gold foil on another one of their invitations, we were off to the races in designing the rest of the wedding based around those colors and ideas. My meetings with Ceci Johnson were invaluable and also so much fun.